Albion Rotary presents $3,000 in scholarships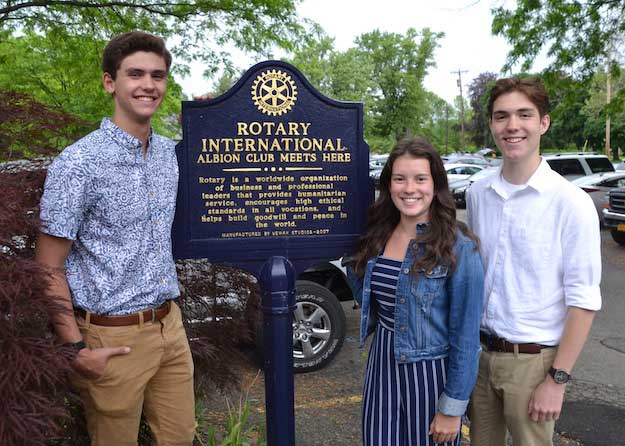 Photo by Tom Rivers
ALBION – The Albion Rotary Club awarded $3,000 in scholarships to graduating seniors today. Pictured, from left, include Harrison Brown, Mckenna Boyer and Jacob Ettinger. They are pictured by the Rotary sign outside Tillman's Village Inn.
Harrison Brown won the $1,250 Edward Archbald Memorial Scholarship, given to a senior who shares Archbald's love of sports, recreational activities, community service and work experience. Harrison is an Eagle Scout who has been active in the FFA. He also was a captain for the varsity soccer team, which enjoyed a winning season this fall, and was a leader on the swim team which won a Sectional title. He will be in the Army ROTC as a student at Cornell University. He would like to be the eighth generation of his family to work with the Brown fruit farm, which started 214 years ago.
Mckenna Boyer won the Dick Eddy "Service Above Self" Scholarship, a $1,250 award that is given to a student committed to community service and leadership, and who displays high potential for future accomplishment. McKenna has been her class president, and has been active in the school's music program, as well as the Rotary Interact Club. She has volunteered at Rotary events, including the golf tournament, St. Patrick's ham dinner and the hot dog stand at the Strawberry Festival. She will be majoring in business at Genesee Community College.
Jacob Ettinger was awarded the $500 Rotary Career Advancement Prize for a senior committed to community service, school activities and work experience. Jacob has been active in the school's music program and also performs in the quartet known as The Billies. He also is on the masterminds and chess teams. He wants to be a civil engineer and will begin his studies this fall at GCC majoring in engineering science.