Albion Rotary inducts president, who is a familiar leader of organization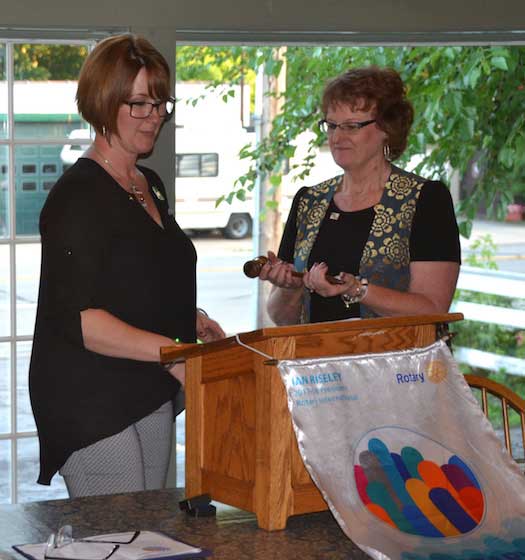 Photos by Tom Rivers
GAINES – Karen Sawicz, right, was sworn in as the new president of the Albion Rotary Club on Thursday night by Tracy Ford, assistant district governor for Rotary District 7090, which includes about 70 clubs in Western New York and southern Ontario, Canada.
This will be the third time Sawicz will be president of the Albion Rotary Club. She is the owner and publisher of The Lake Country Pennysaver and Orleans Hub.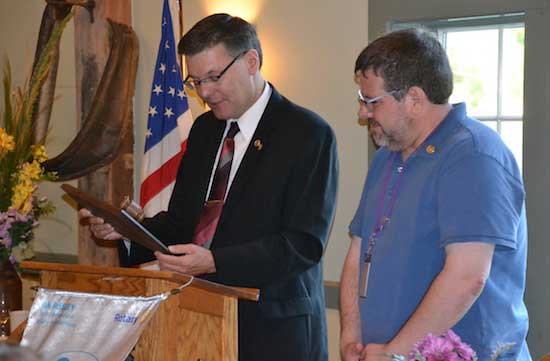 Mike Bonnewell, right, receives a plaque and president's pin from Rotarian Ed Fancher after Bonnewell served the past year as the Rotary president. Bonnewell is the superintendent of Albion Central School. He also was named a Paul Harris Fellow and the club donated $1,000 in his name to the Rotary Foundation for its humanitarian work.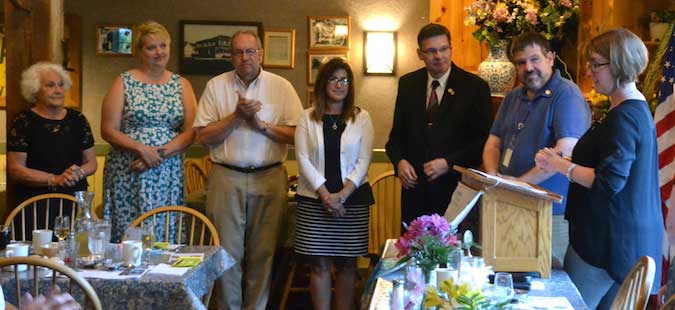 Members of the board of directors take their oath of office including, from left: Mary Anne Braunbach, Heidi Truschel, Doug Farley, Deb Boyer and Mike Bonnewell. Dick Remley, Bruce Landis and Becky Karls are also on the board. Tracy Ford administered the oath.
The Rotary Club on Thursday was pleased to see a large Santa mural installed on Main Street in Albion. The club had been working on that project for about two years. Sawicz said she wants to see the Rotary Club continue its efforts to help downtown Albion.
The club is the lead sponsor of the annual Strawberry Festival the second Friday and Saturday in June. Rotary has a golf tournament on July 19 and runs the Orleans County Fishing Derby from Aug. 4 to Aug. 19 with more than $8,000 in prizes will be available.
The club also gives out three scholarships each year to high school graduating seniors and serves a St. Patrick's ham dinner to benefit a youth service program through the Interact Club at the school.
The club also is gearing up for its 100th anniversary in 2022.