Albion Rotary golf tourney raises $6,300 for transportation program for seniors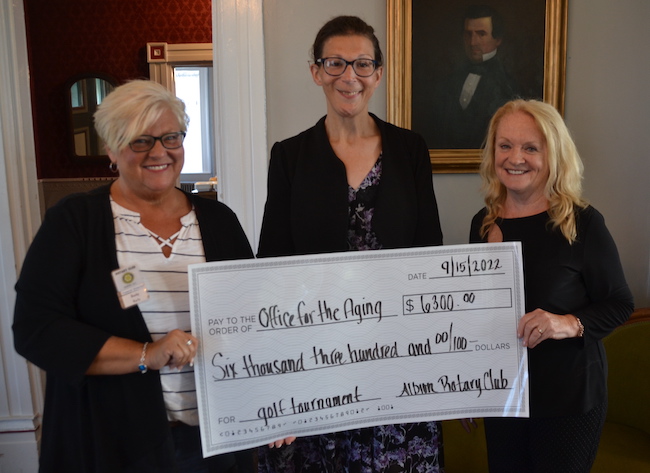 Photo by Tom Rivers
ALBION – The Albion Rotary Club today presented a ceremonial check for $6,300 to the Office for the Aging to support a transportation program for senior citizens.
The tournament was held on July 28 at Shelridge Country Club in Medina.
Pictured from left include Becky Karls, Rotary Club member and OFA employee; Melissa Blanar, OFA director; and Cindy Perry, Rotary Club member. Karls and Perry also were the main organizers of the annual tournament.
The funds will support a volunteer transportation program that was started in 2019 by the OFA. That program sees more demand since Community Action ended a transportation program on Sept. 1, 2021 for senior citizens citing a deficit with CATS. Community Action would take local seniors to appointments, including to see doctors out of county.
The volunteers take people to appointments in Orleans County and surrounding counties. There are about a dozen volunteer drivers and they can do in-county only rides if they prefer and be as available as they want, Blanar said.
The funds from the golf tournament will help pay for mileage for the drivers, and a software program that assists the OFA with scheduling appointments. If there are any leftover funds, Blanar said it would be used for emergency food for senior citizens.
She welcomes more volunteer drivers for the program, which helps adults over age 60.
The drivers take people to medical appointments, grocery stores, nursing homes to visit loved ones and other appointments.
If volunteers aren't available, OFA has a contract with Medina Transport Taxi.
Some seniors also use the RTS public transportation but that agency is often locked into a schedule and it can be difficult to link up with other buses for trips out of county.
For more information about the volunteer program, either as a driver or rider, contact the OFA at (585) 589-3191.
Blanar said many of the volunteer drivers have become friends with the senior citizens getting rides.
"There have been some great relationships created," she said. "It's a great program and we want to keep it going."