Albion Rotary gives $7,900 to support Leadership Orleans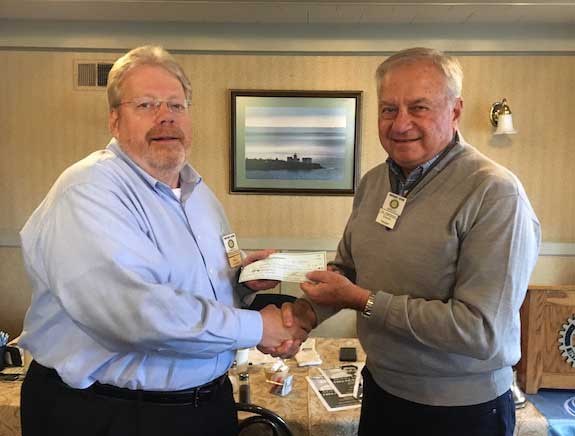 Photo by Tom Rivers
GAINES – The Albion Rotary Club on Thursday presented $7,900 to the Leadership Orleans program. Skip Helfrich (left), Leadership Orleans director and an Albion Rotarian, accepts a check from Charlie Nesbitt, an Albion Rotarian and member of the committee that planned a July 19 golf tournament.
Some of the proceeds from the tournament were directed to Leadership Orleans, a new leadership program that started in January with 25 people is nearing the conclusion for its first year, with a new class of about 25 to start in two months.
The debut class comes from a cross section of the community, including law enforcement, government department heads, farm owners, agency directors and other business leaders. The program picked residents who have demonstrated leadership abilities, interest in community affairs, and a commitment to Orleans County's future.
Each month the group learned about a different sector of the community, including government, arts and culture, volunteerism and non-profit organizations, community health, tourism and recreation, agribusiness, economic & workforce development, and education.
Some of the July 19 golf tournament proceeds also went to the Leon Sidari Memorial Fund, which was established as a non-profit organization in memory of Leon Sidari, who was 4 ½ when he died on Christmas, two days after getting the flu. Leon's Fund pays for flu vaccinations and an awareness campaign about the importance of getting vaccinated.
Leon is the son of Albion natives Laura (Lyman) Sidari and Tony Sidari. Leon's grandfather is Nathan Lyman, who was a long-time member of the Albion Rotary Club.