Albion Rotary gives $5K check to Leadership Orleans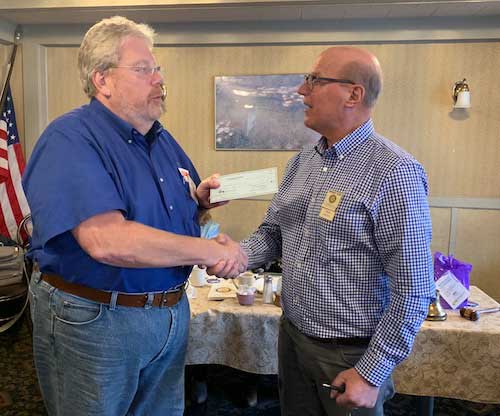 Photos by Tom Rivers
ALBION – The Albion Rotary Club today presented a check for $5,311 to Leadership Orleans, which is part of the proceeds from the club's golf tournament in July.
Skip Helfrich (left), Leadership Orleans director, accepts the check from Richard Remley, Rotary Club president.
Leadership Orleans is in its second year. There have been about 25 members in each class for the first two years. The year-long program meets monthly and the members comes from a cross section of the community, including government department heads, farm leaders, agency directors and other business officials. The program picked residents who have demonstrated leadership abilities, interest in community affairs, and a commitment to Orleans County's future.
Each month the group learned about a different sector of the community, including government, arts and culture, volunteerism and non-profit organizations, community health, tourism and recreation, agribusiness, economic & workforce development, and education.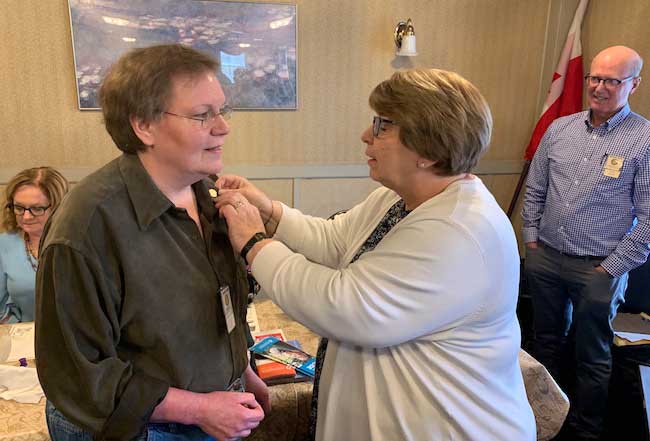 The Rotary Club also presented a Paul Harris Fellow to Alex Krebs, left. She is a past president of the club. This is her second Paul Harris award, which is given in honor of Rotary's founder. Krebs, who works in graphic design, accepts the award from Donna Saskowski, executive director of the Arc of Genesee Orleans. She is also Rotary assistance district governor.