Albion Rotary Club has changing of the guard, with virtual swearing-in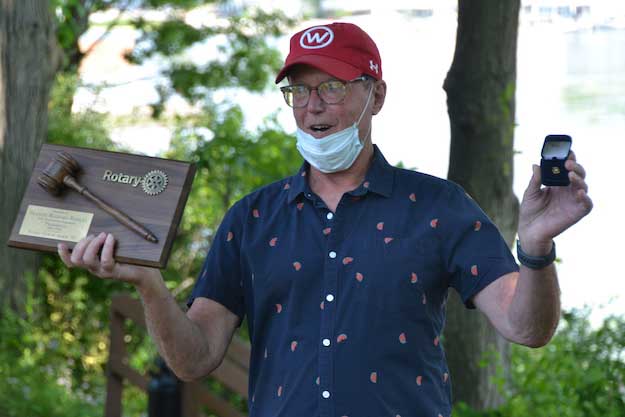 Photos by Tom Rivers
POINT BREEZE – Dick Remley holds up a plaque and pin which he received on Thursday in appreciation for his leadership as Albion Rotary Club president in 2019-2020.
Remley, the Albion town supervisor, acknowledged it was a very unusual year for the club, which has been meeting since mid-March through the Zoom video conference.
Thursday was the first time the club had an in-person meeting in more than three months.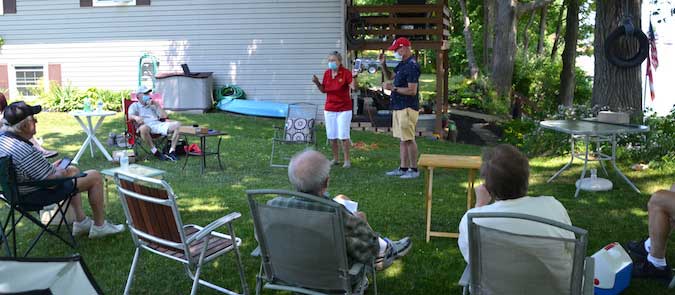 Marlee Diehl, in red shirt, is the club's new president. Thursday's meeting was held at her home overlooking the Oak Orchard River. (Her husband Bill Diehl has twice served as Albion Rotary Club president.)
The club typically meets Thursday's for lunch at Tillman's Village Inn. The club is hoping to return to regular in-person meetings soon.
Most of the club's fundraisers and events have been cancelled in 2020.  The club looks forward to 2021 and a return of the St. Patrick's Ham Dinner, Strawberry Festival and a fishing derby. The club will celebrate its 100thanniversary in 2022.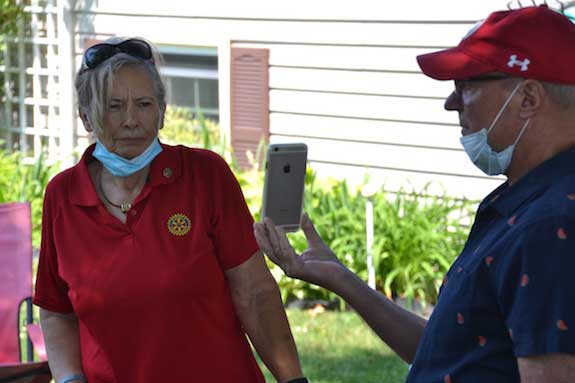 Diehl, a retired recruiter and past district governor for Rotary, is sworn in as new club president by Frank Adamson. He administered the oath by phone. Adamson is a Canadian and couldn't be with the Albion Rotarians in person due to the Peace Bridge and other U.S.-Canada crossings closed to nonessential travel.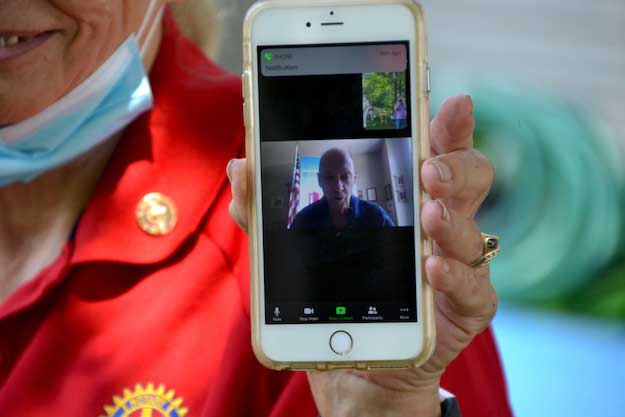 Frank Adamson administers the oath of office to Albion Rotary Club board members. Adamson leads a district that includes about 70 Rotary clubs in Western New York and Ontario, Canada. He is a member of the Rotary Club in Fonthill, Ontario.