Albion Rotary Club gives 3 scholarships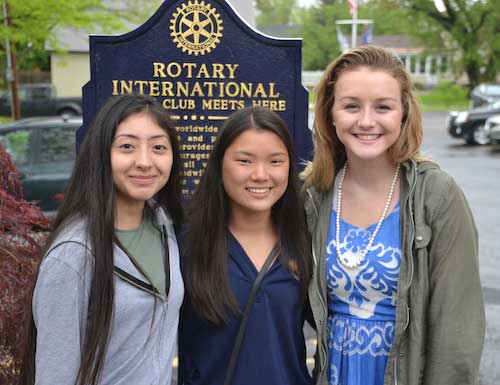 Photo by Tom Rivers
ALBION – The Albion Rotary Club awarded $2,750 in scholarships to graduating seniors this year. Pictured, from left, include Karina Rosario, Clara Stilwell and Vivian Rivers. The scholarship winners attended last week's Rotary Club meeting at The Village Inn.
Vivian Rivers won the Dick Eddy "Service Above Self" Scholarship, a $1,250 award that is given to a student committed to community service and leadership, and who displays high potential for future accomplishment. Vivian has been active as a class officer, the FFA, Interact, marching band, chorus and other activities. She also topped more than 100 hours of community service and attended a church mission trip to Peru.
Clara Stilwell won the $1,250 Edward Archbald Memorial Scholarship, given to a senior who shares Archbald's love of sports, recreational activities, community service and work experience. Clara has been active in sports – golf, swimming, tennis, cross country and track – and also has been in the band, chorus, marching band, select chorus, and many service clubs, including the FFA, Interact, Spanish Club and Honor Society.
Karina Rosario was awarded the $250 Rotary Career Advancement Prize for a senior committed to community service, school activities and work experience. Karina is active in school organizations and the community, while also working at Kast Farms and being dedicated to community service, including tutoring elementary school students.