Albion Rotary Club awards 3 scholarships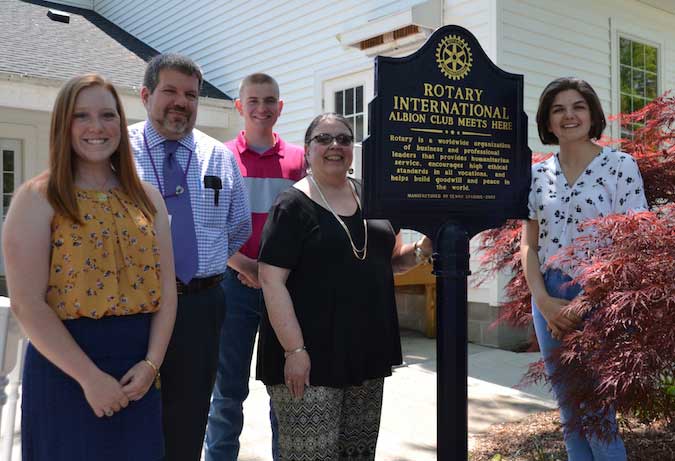 Photo by Tom Rivers
ALBION – The Albion Rotary Club awarded $3,000 in scholarships to graduating seniors today. Pictured, from left, include Hailey Bader, Rotary Club President Mike Bonnewell (who is also the school district superintendent), Justin Robinson, Bonnie Malakie (Scholarship Committee chairwoman) and Riley Seielstad.
Hailey Bader won the Dick Eddy "Service Above Self" Scholarship, a $1,250 award that is given to a student committed to community service and leadership, and who displays high potential for future accomplishment. Hailey has been active in chorus, band, drama, Rotary Interact, as a class officer and on the varsity tennis team. She has a passion for dance. She will study marketing and dance at The College at Brockport and would like to run her own dance studio after college.
Riley Seielstad won the $1,250 Edward Archbald Memorial Scholarship, given to a senior who shares Archbald's love of sports, recreational activities, community service and work experience. Riley has been a class officer all four years of high school, and has been active in the theater program and band, including serving as a drum major for the marching band. She also has been active with the 4-H program and in horseback riding. She will major in allied health at Otterbein University in Ohio with a goal for a career in occupational therapy.
Justin Robinson was awarded the $500 Rotary Career Advancement Prize for a senior committed to community service, school activities and work experience. Justin has played soccer and football for Albion, while being active in the FFA and band. He works part-time at his family dairy farm in Albion during the school year, and full-time during the summer. He will attend Cobleskill University to major in agriculture business with an emphasis on dairy management. He plans to work at the family farm after college.