Albion resident wants damaged utility pole to be removed
Editor: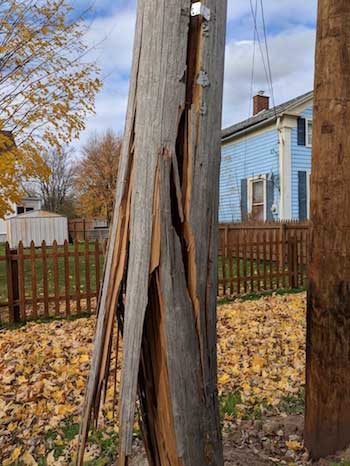 I would like to express my concern over both an eyesore and a safety issue here in the Village of Albion.
On August 24th, a single-car accident just north of the intersection of West Park and West Academy Streets resulted in significant damage to the utility pole shown in the photo.
That evening, National Grid came and placed a new pole and moved the power lines (cutting off several feet of the damaged pole).  To date, nearly three months later the cable wires and the damaged pole remain.
Although, it is an eyesore that I see everyday, my larger concern is that someone is going to get injured. The risk is unnecessary!
I did inquire at the Village office as to who to report it to, or ask for help and was told "there is no one, it could be year."
I can't accept that…there must be someone, somewhere responsible for such things!
Disgusted,
Marlene Seielstad
Albion