Albion PD used armored vehicle to rescue people stranded in storm in Orleans, Genesee
Photos courtesy of Albion Police Department
ALBION – The Albion Police Department's armored vehicle was used to make several rescues during the blizzard from Friday night through Sunday.
The Albion PD acquired the vehicle for free in 2020. It is primarily utilized by the SWAT team, but can be deployed in other emergencies. This was the first time it was brought out in a massive snowstorm.
"It's intent is for anything we need it for," said Albion Police Chief David Mogle. "It went through snow that no other vehicle could have gone through."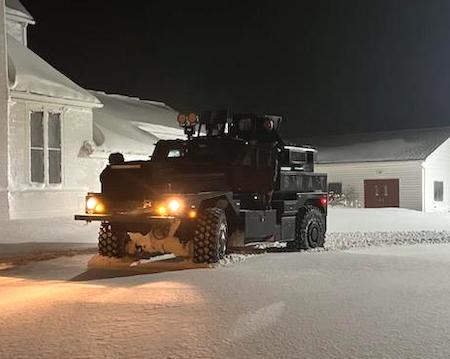 Mogle drove the MRAP (Mine Resistant Ambush Protected) all night Friday. It took 2 ½ hours to go down Route 98 through Elba, and then west on Route 262 in Elba. The MRAP was able to pick up 5 people on 262, and bring them to a warming station in Oakfield, and then joined a convoy rescuing about 15 to 20 more stranded people in the Oakfield.
Mogle said the heavy vehicle with thick tires wouldn't be stopped from the deep snow, except when the visibility was so poor the drivers couldn't see anything from the whiteout conditions.
The drivers kept the MRAP on the road, using mailboxes and telephone poles as guides.
Saturday morning the armored vehicles was deployed to the Iroquois Job Corps in Shelby was brought back 8 people who had been without electricity for a day in sub-freezing temperatures. The Shelby and East Shelby volunteer fire departments also transported students and staff to the Comfort Inn and Suites in Medina, with the Town of Shelby helping to plow a path for the vehicles.
The MRAP is equipped with different modes and settings that allow it to navigate through large amounts of snow and different terrain, allowing officers to travel through the low visibility snow conditions and reach those in need of help, Mogle said.
"This is the first time it went through snow like this," he said today. "We knew it could pretty much go through anything."
The police chief was advised the officers in the vehicle might find people who perished in their vehicles from the cold. But Mogle said law enforcement isn't aware of any deaths from the blizzard in Genesee or Orleans. There are 27 deaths in Erie and Niagara counties from the blizzard, including 20 in Buffalo.
"The Albion Police Department would like to commend all law enforcement agencies, fire departments, highway departments and the Orleans County Dispatch Center for their involvement and tireless efforts performed throughout the recent snow storm," Mogle said.