Albion PD swears in new lieutenant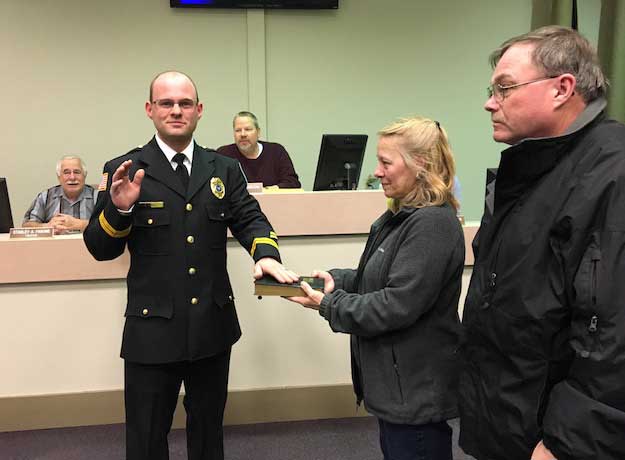 Photo by Tom Rivers
ALBION – David Mogle was sworn in as a lieutenant for the Albion Police Department on Wednesday evening. His mother Karen holds the Bible and his father David joins them at the Village Board meeting.
Mogle's wife Amber and their three children also attended the swearing-in on Wednesday. Village Trustee Stan Farone is in back left and Mayor Dean London is in back center.
Mogle has been an Albion police officer for about 10 years. He was promoted to sergeant and took the oath on July 9, 2014.
He has been lieutenant on a provisional basis following the retirement of Tom O'Hearn in June 2016.
Mogle no longer is in a provisional role as the department's number two in command.
Mogle was working as a mechanic with his father at D & K Autobody when he decided to make a career change. In addition to working with the Albion Police Department, Mogle has been assigned to the Orleans County Major Felony Crime Task Force.