Albion pays respect to soldiers who 'gave last full measure of devotion'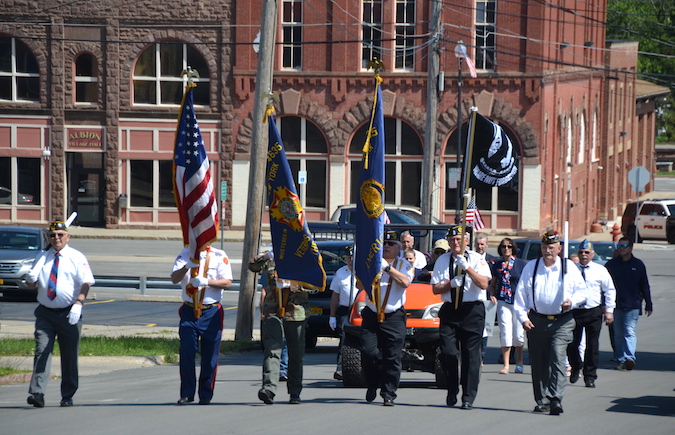 Photos by Tom Rivers
ALBION – Members of the VFW and American Legion posts carry flags at the beginning of a processional on Platt Street in front of the VFW Post. The Albion Village Hall and Police Station are in back.
For the second year there wasn't a typical Memorial Day parade in Albion. Last year's parade and service were cancelled due to Covid-19 concerns and restrictions.
The parade route usually starts on Main Street and heads to Route 31, ending at the middle school lawn and memorial.
The local veterans wanted a service this year, and opted for a smaller route and fewer parade participants. The Albion marching band and local scouts weren't in the parade.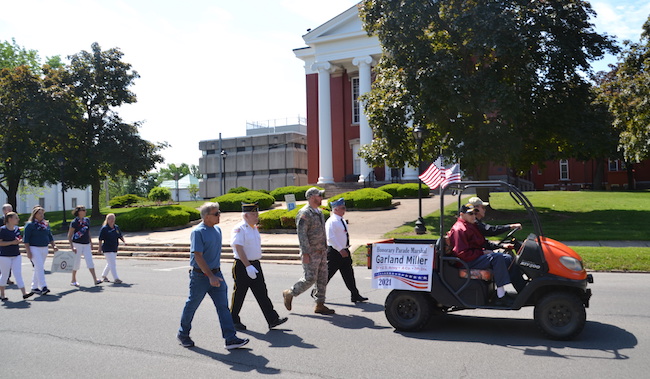 The procession passed by the Orleans County Courthouse on East State Street. Garland Miller, a Word War II veteran, served as honorary parade marshal. He rode in a Kubota driven by his son, Lynn Miller, a veteran who lives in Holley.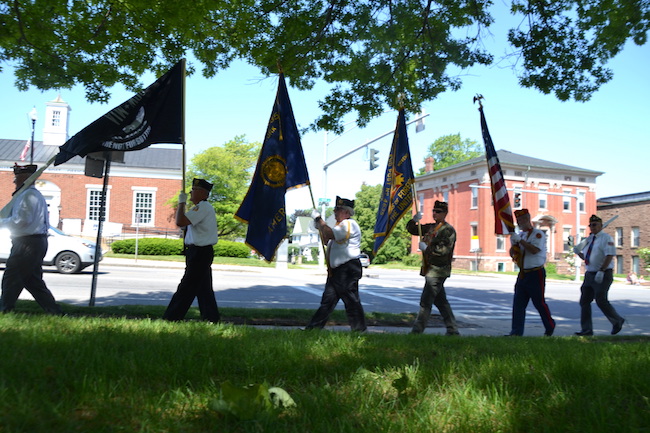 The Color Guard rounds the corner along the sidewalk at State and Main streets, headed to the service at the new veterans memorial that was dedicated last year by the Knights of Columbus.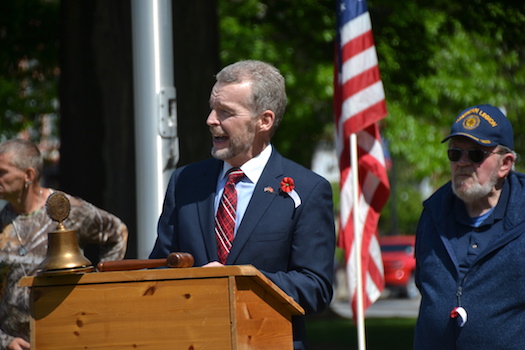 Tim Lindsay said 1.3 million Americans have given their lives in military service for the country in the past 250 years. That sacrifice has made the country – and the world – a better and safer place, Lindsay said.
Lindsay quoted from President Lincoln's speech at Gettysburg on Nov. 19, 1863, noting the soldiers honored on Memorial Day "gave the last full measure of devotion" to the country.
Lindsay prayed that God would continue to bless the United States keep his "providential hand upon us."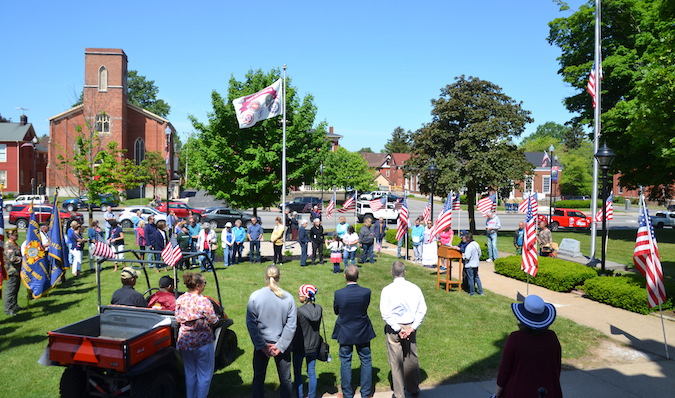 This group gathers on the Courthouse Square lawn by a veterans' memorial dedicated last year by the Knights of Columbus.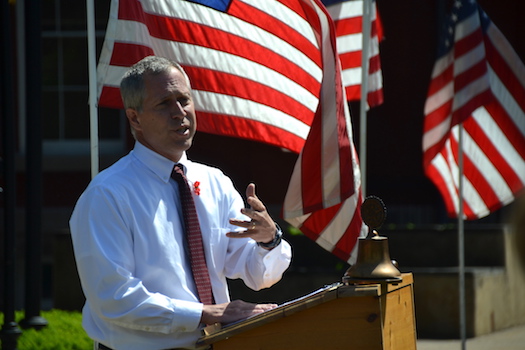 Tim Archer, a service learning teacher at Albion, has led seventh-graders in several community projects honoring veterans. He said his goal is to help the students become better citizens.
Archer shared that he recently walked at Mount Albion Cemetery and stopped by the graves of six local men who died defending the country over three generations.
One of the soldiers, Jason Johnston, was in Archer's class.
Archer highlighted these soldiers:
Private First Class Augustus J. Rogers, Co. B, 315th Infantry, died in 1944 at age 19
S/Sgt. Howard W. Tucker, Co. M. 385th Infantry, 76th Division, died in 1945 at age 25
Pvt. Robert Casselman, 79th Qm. Depot, died in 1954 at age 24
John J. Hornyak, Marine Corps in Vietnam, died in 1966 at age 28
Pvt. First Class Paul D. Ormand, security agency in Vietnam, died in 1975 at age 19
Army Spec. Jason M. Johnston, 2nd Battalion, 508th Parachute Infantry Regiment, 4th Brigade Combat Team in Afghanistan, died in 2009 at age 24.
"Their deeds and sacrifice speak to us today — in this great land that God has ordained and blessed. It is our responsibility to remember, preserve and pass on to the next generation those standards and expectations that make America the greatest nation on earth."
Archer also shared that his students are working on an interpretive panel that would be installed in front of the Treasurer's Office on East Park Street. That building was the first home for the Sheret Post of the American Legion and was its home from 1935 until 1980.
It was named for Sgt. James Sheret, who died on Sept. 29, 1918 in World War I. Sheret was awarded the Distinguished Service Cross for the bravery of his actions during the attack on the Hindenburg Line. General John Pershing considered "one of the hundred heroes of WW1".
Sgt. Sheret's brother Egbert, a machine gunner, was also killed in action that day and their younger brother, Andrew, was severely injured.