Albion parish celebrates Father Csizmar for his 50 years as priest
Csizmar grew up in North Tonawanda and was ordained a priest at age 25 on May 25, 1968. His first assignment was serving for a year at a country parish in Cherry Creek, Chautauqua County, and then a summer assignment at Harris Hill in Williamsville.
He then served 25 years at Notre Dame High School in Batavia, teaching religion, coaching tennis and serving at St. Anthony and St. Joseph parishes in Batavia.
Albion was his first assignment as a parish priest, and Csizmar said he has treasured being a part of weddings, first communions, baptisms and even funerals.
"This is where it has been such a joy to be a part of the lives of parish families for such a long time, trying to put into practice the vision I have for Parish Life," he said in a message to the parish.
Csizmar's sister, Diane Skomski, said her brother has been a source of pride for the family. He is known as "Rich" to his family. Though he may not be rich with material possessions, Skomski said her brother is rich in "kindness and compassion, generosity and love," and love of fun, food, laughter, get-togethers, "and most of all, people."
Csizmar has been devoted to people this past half century, she said.
"We all have benefitted from the love he has shown us," she said. "Today is our opportunity to show him our love."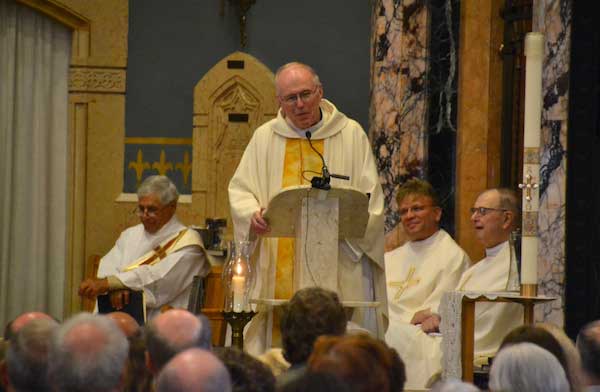 Csizmar is a big baseball fan and he used baseball analogies to express his appreciation to the parish today. He also quoted the famous "Luckiest man on the face on this earth" speech from Lou Gehrig, the famed New York Yankee who died of ALS. Gehrig addressed the Yankee crowd on July 4, 1939 after he was forced to retire due to a debilitating disease.
"I consider myself one of the most blessed men in the world," Csizmar said at a special Mass this morning.
Csizmar is unusual with his parish assignment to Albion lasting 24 years and counting. Most priests have much shorter stays with parishes. Csizmar said the Albion parish has been welcoming.
Deacon James Collichio said Csizmar has a "bubbly" personality and strives to connect with people.
"He is a very personable person," said Collichio, who has been a deacon at Holy Family Parish for 38 years. "He is always lifting up anyone he meets."
Roz Starkweather attends the morning Masses during the weekdays, as well as Mass on the weekends. She said Csizmar "goes above and beyond" in tending to the spiritual life of the parish, with special services and meaningful messages.
Csizmar thanked the parish for the opportunity to serve them.
"I just want you to know how blessed I am being here with you," Csizmar told the parish today. "I have been transformed. I thank God for the abundance of your love."