Albion officials celebrate opening of expanded Uptown Browsery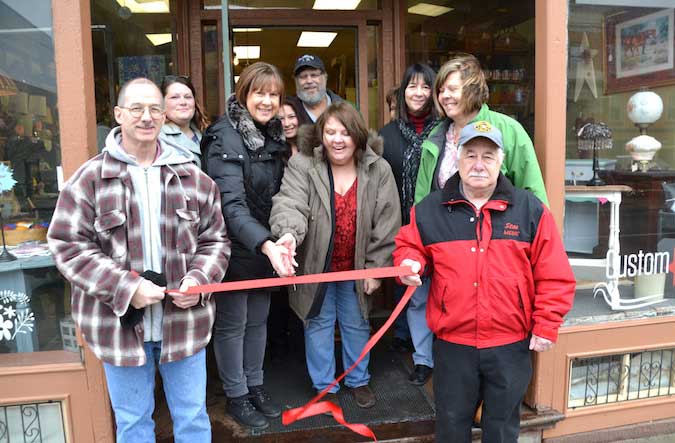 Photos by Tom Rivers
ALBION – Village of Albion trustees Gary Katsanis, left, and Stan Farone hold the ribbon while Mayor Eileen Banker (in black coat) cuts the ribbon this morning for the expanded Uptown Browsery in downtown Albion. Maureen Bennett, a vendor and member of the Browsery's board of directors, is up front with Banker. Other vendors in the photo include, from left, in back: Elizabeth Penafiel, Dakota Morasco, Scott Sackett, Linda Carson, Lisa Mannella and Lucy Sackett.
There are 34 vendors in the three Browsery locations. The original Downtown Browsery opened at 14 East Bank St. in 2004 with 13 vendors. Four years ago the Uptown Browsery opened at 118 North Main St. In January, the Uptown Browsery expanded north on Main Street. The two Uptown storefronts are connected with an archway that was used back when the site was a Landauer's Department Store.
The vendors sell vintage collectibles, antiques, upcycled furniture and other items. They share expenses and all spend a minimum of 10 hours in store. The shared workload and expenses have proven a good formula for the vendors, said Maureen Bennett, who sells farmhouse décor and antiques.
The expanded space for the Browsery was quickly embraced by vendors. Bennett said there are still a couple spots if a vendor is interested.
Stan Farone, a village trustee, said the Broswery locations offer a variety of items that appeal to many in the community.
"I encourage people to visit the stores," Farone said. "People don't realize what we have here in the downtown."