Albion's Class of 1971 and '72 celebrate reunions in combined bash
The Class of 1972 members at the reunion include:
Front row – Joanie Neri, Ann Germeo, Ron Vanderlaan, Carolyn Hill, Marilee Tokotch, Sue Pilon, Susan Glassner, Joey Fiorilli, Vickie Condolucci, Barb Chappius. Debi Becker and Sandy Kast.
Second row – Marita DeLuca, Patti Smith, Bentley, Gail Hudson, Faye Hollenbeck, Sandra Jones, Brenda Staines, Paul Harvey and Joel Linton.
Third row – Clarence Whitfield, Steve Seidel, Vicki Pratt, Ned Parker, Cindy Downey, Steve Licht, Randy Conlon, Eileen Williams, Joanne Githens, Joan Peters, Candy Hockenberry and Christine Mathes.
Fourth row – Howard Ward, Gary Smith, David Kofahl, Rick Babbitt, Dean Burdett, Mark Adema, Pat Scharping, Paul Theodorakos, Bob Capurso, Michael Hinman, Karl Spanton and Dennis Monacelli.
---
Writeup courtesy of Sally Capurso
LYNDONVILLE – The Albion Central School's classes of 1971 and 1972 hosted a whirlwind of memories on Aug. 19-20 to celebrate 50 and "50-ish" years since their graduations.
When the class of 1971 found it difficult to book a venue for their 50th reunion in 2021 due to Covid restrictions, they needed to think outside the box. What better way to celebrate than with those who graduated in 1972?
The festivities began with a golf scramble in memory of 1972 deceased classmate, Brian "Bucky" Buckner.  A Friday night gathering at St. Mary's Athletic Club afforded classmates the opportunity to informally chat and catch up while munching on everything from ACS Sloppy Joes to chips and diverse salsas. Marty Taber '71 provided an entertaining look back at our high school years.
Saturday morning afforded the classes the opportunity to tour their old high school under the direction of Superintendent Mickey Edwards. What a memory jogger!
The Saturday evening reunion was held at the White Birch Golf Course in Lyndonville. Gorgeous table decorations surrounded by tea lights in mini vases with purple ribbon and handmade purple napkin holders warmly greeted the classmates.
After a social hour, there were class pictures by Bruce Landis. Then Melanie Repko Barbarito '71, Rev. Clarence Whitfield '72, and Rev. David Kofahl '72 prayed about the classes' past, present and future.
MC Bob Capurso '72 then led us through time: then and now. A trivia contest at the tables afforded a blast from the past as well as an ice breaker. Table winners were presented eagle coasters donated by Jane Kast Gill, '71.
The Hastings Duo provided background music throughout dinner and gave a chance to show off their dance skills. Sally Sadowski Capurso '71 presented everyone a verbal collage of highlights of classmates' contributions to society in the years since leaving ACS.  Barbara Karls Dawson, chief registration collector '71 and Sally Capurso then awarded the first Humanitarian Awards to one member of each class who has served their communities in selfless ways.
Judy Delamarter Craddock '71 was the recipient for her selfless missionary work. Howard Ward '72 was the recipient for his ongoing commitment to many communities. The class of 1971 challenges future 50th Reunion Committees to honor someone with the Humanitarian Award.
In addition to those mentioned above, major contributors of the blended committee included Ann Germeo Tower, chief registration handler for '72, Marita DeLuca Dumrese, purple decorator extraordinaire, Joanie Neri Millis, Patti Smith Buckner, Eileen Williams, Howard Ward and John Grillo.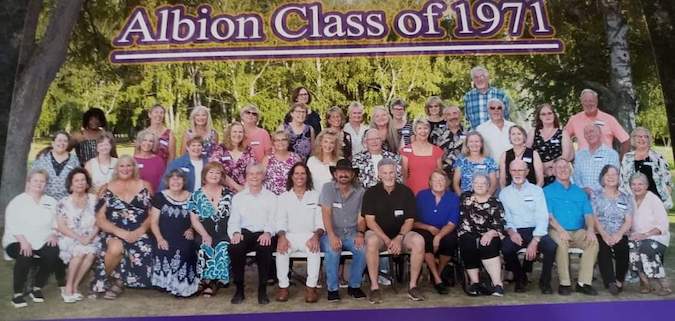 The of Class of 1971 attendees at the reunion include:
Front row from left – Elizabeth Thom Cowan, Cindy Glassner Piedmonte, Jamie Lynn Halstead, Pam Staines Merrrill, Bonnie Lee Cooper, Chuck Lafferty, John Grillo, Bernie Baldwin, Alan Heard, Diane Sharping, Barb Karls Dawson, Mike Smith, Ronald Pritt, Delores D'Amico and Ruth Carr Snyder.
Second row – Susan Warne, Bonnie Bower, Donna Kast Trotter, Sue Perfitt Landis, Sally Sadowski Capurso, Roxie Gaylard Basinait, Cathy Boone Sabo, Tom Fiorelli, Melanie Repko Barbarito, Barbara Babbitt, Sue Mack, Mary Keitel Donahue, Bill Munger and Lorinda Cook Anderson.
Third row – Bertha Barber, Betsy Hunt O'sick, Jeanie Sherman Greenwood, Joanie Anderson Smith, Cindy Drew, Judy Delamarter Craddock,  Marcia T Harris, Melanie Woolston Schaffran, Becky McGuire Allport, Jane Kast Gill,  Harold Germeo, David Vanderlaan and Jim New.
Back row – Mary Clair Bell O'Kane and Marty Taber.