Albion natives who lost son to flu urge vaccinations
Tony and Laura Sidari say young children are especially vulnerable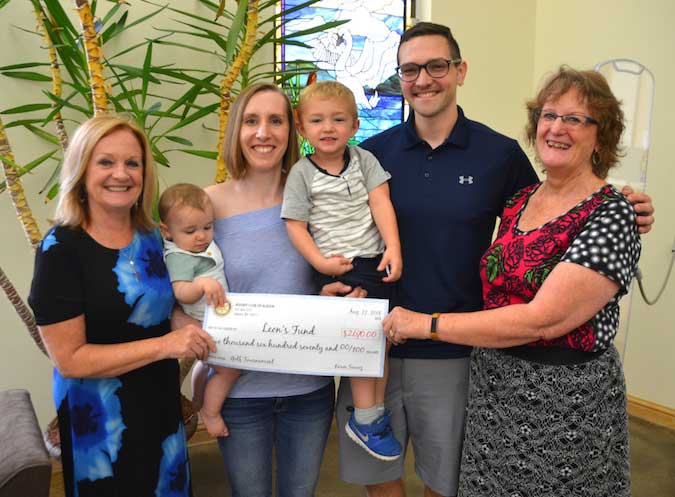 Photo by Tom Rivers
ALBION – The Albion Rotary Club this morning presented a check for $2,670 to the Leon Sidari Memorial Fund, which will be used by Orleans Community Health to promote flu vaccinations and also for the annual Breakfast with Santa at Medina Memorial Hospital.
Leon's Fund was established as a non-profit organization in memory of Leon Sidari, who was 4 ½ when he died on Christmas, two days after getting the flu. Leon is the son of Albion natives Laura (Lyman) Sidari and Tony Sidari. They are both medical doctors who were based in San Antonio for six years before recently moving to Dayton, Ohio.
The Sidaris have been in Albion recently visiting family and friends. Pictured, from left, includes, Cindy Perry, Rotary golf tournament organizer and director of education, wellness and marketing for Orleans Community Health's Community Partners; Cameron Sidari, 9 months; Laura Sidari; Tristan Sidari, 2; Tony Sidari; and Karen Sawicz, president of the Albion Rotary Club.
The funds from Rotary were raised during a July 19 golf tournament. The Sidaris are directing those funds to Orleans Community Health, which will be promoting flu shots in the community. Medina Memorial Hospital also has an annual breakfast with Santa and some of the golf tournament proceeds will go towards that event. Leon enjoyed Christmas and loved to give away presents.
"He was a fantastic kid," his mother said. "We had a lot of hopes and dreams for him."
The memorial fund in Leon's name promotes flu shots and also has money to be given to help children with medical problems at Christmas time.
Laura and Tony said their son was very healthy and started showing flu symptoms on Dec. 23. Within 48 hours he died despite the efforts of a medical team at the hospital.
Leon had been vaccinated for the flu in prior years and was due for a flu shot soon after Christmas. He died from the strain of the virus called H3N2.
The Sidaris say young, healthy children can be ravaged by the flu. They are encouraging all children, 6 months or older, to be vaccinated.
Parents should have the children vaccinated every year to build their immunity in fighting off the flu, the Sidaris said. They urge children to be vaccinated early in the flu season in September or October.
"The flu shot reduces the risk of severe complications," Tony said this morning at Hoag Library, where he and his wife accepted a ceremonial check from the Rotary Club.
Tony and Laura grew up together in Albion, attending the same preschool. Tony graduated from Albion in 2003 with Laura finishing Albion a year later. They were in the marching band together. They started dating at Cornell University.
They both earned licenses as medical doctors with Laura working as a psychiatrist and Tony as a rheumatologist. They are both in the Air Force.
Tony is the son of Lori Murek of Albion and Paul Sidari, who lives near Boston, Massachusetts. Laura is the daughter of Nathan and Gail Lyman, who now live in Ithaca.