Albion native will be honored in inaugural 'March Forth'
Initiative raises funds and awareness for domestic violence
An Albion native, Genevieve Monacelli Riviere, is one of two women being honored in an inaugural event to take place March 4.
Riviere was ahead of her time and never gave in to adversity, her son, Patrick Riviere said. She became a single mother during a time uncommon to this type of family dynamic, and she experienced the loss of a child.
When challenged with tragic moments in her life, she carried on for her family and for her own well-being. Volunteering her time, and always keeping her faith, "Mama Gen" was the heroine in her own story. Passing away on March 4th, 1997, she left her family with inspirational memories. For those who remember her, especially her family, we recognize how she always "Marched Forth."
The Unwritten Women's Society brings together women who want positive change in their lives by encouraging personal growth and providing opportunities to meet other inspirational women. It is with that spirit (and a Facebook exchange between old friends) that the inspiration for #MarchForth was born.
In memory of Genevieve (and Patricia Zoltoski of Grand Island, NY), the Unwritten Women's Society of the Philadelphia suburbs will celebrate the Inaugural March Forth event this Sunday.  Embracing the difficult moments in life and celebrating our ability to rise above adversity, we will #MarchForth. UWS will also be encouraging people across the country to participate in their own way to honor these women and the special women in their own lives.
Jess Alaimo Filpo, a friend of Patrick Riviere's, is the organizer of March Forth. Riviere lives on Cape Cod and is a professional actor and playwright.
His mother endured prejudice as an Italian-American, and also battled rheumatic fever and double leakage of the heart as a young girl. When she was a student, she worked in a local canning factory and on a farm.
"She was a child of the Great Depression so she never took things for granted and had an amazing work ethic," her son writes about her on the Unwritten Women's Society website. "When her father refused to help her with college after her older sister dropped out, she worked her way through night school to become an accountant. She got a job with the General Accounting Office (GAO) in Washington DC working for the government in a department dominated by men. Early on in her life, she marched forth."
She gave up her career to have a family. Her first child, Jackie, was born with Down syndrome. Patrick was born 2 years later. His mother raised both of boys as a single mother after her husband walked out, Patrick says.
"My brother Jackie died when he was only 16," Patrick writes. "I remember going to visit my mom at The Ronald McDonald House on my 14th birthday. She felt guilty that she wasn't doing more for my special day. My brother died the next day. I'm really not sure how my mom survived it. And yet, out of the depths of her sorrow, she marched forth."
His mother worked at the grammar school, did taxes during tax season and sold Avon. She was a woman of faith who insisted on tithing to the church, even during lean times financially.
Genevieve was 72 when she died on March 4th, 1997. "Her life was a testament for all of us to #MarchForth," Patrick writes.
To support the March Forth movement, the Unwritten Women's Society is holding a t-shirt fundraiser. Proceeds from the fundraiser will be donated to the prevention of domestic violence. Domestic violence is an "equal opportunity offender." It can happen to anyone of any race, age, sexual orientation, religion or gender. It affects people of all socioeconomic backgrounds and education levels.
To read more about the Unwritten Women's Project, and Genevieve and Patricia's story and learn how you can support March Forth, visit http://www.unwrittenwomenssociety.org/marchforth/.
Patrick Riviere stars in Super Bowl ad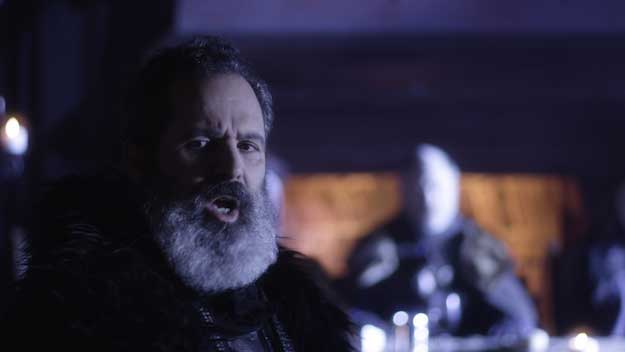 Patrick Riviere (pictured in a new ad) is an Albion native who works as a professional actor and playwright (and also helped manage a bed and breakfast for a few years in Cape Cod). He appears in a regional ad for the Rhode Island and Western Massachusetts market. The ad for a law firm debuted during the Super Bowl. Click here to see it.
"This biz is a crazy roller-coaster," Riviere wrote in an email. "Each time I think I might have come to the end of the ride, I find myself buying another ticket."