Albion native at Otterbein in Ohio attends Dem debate, meets Warren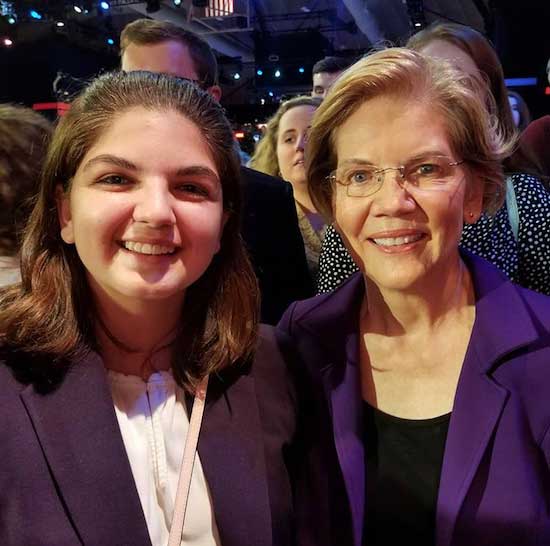 Photo courtesy of Riley Seielstad
After the Democratic Presidential Debate on Tuesday night, Albion native Riley Seielstad and candidate Elizabeth Warren got their photo taken together.
Seielstad, 19, is a sophomore at Otterbein University in Westerville, Ohio. She is an early childhood education major and also a member of the equestrian team.
She put her name in for a ticket to attend the debate but initially didn't get picked. So she went home to Albion for fall break this past weekend. Then she got a call she had been upgraded to a standby ticket. And then another call came that she had a ticket.
Seielstad cut her fall break short and made the 5 ½ drive back to Otterbein for what she said was a once in a lifetime chance to see a presidential debate in person.
Her parents, Erik and Marlene Seielstad, saw Riley on TV just before the debate and then after, getting her photo taken with Warren, one of the leading candidates.
Riley wore a similar purple blazer as Warren. The matching blazer caught Warren's attention and she approached Riley, saying, "Great minds think alike."
Riley said the campus has been "insane" the past week with preparations for the debate. The gymnasium was turned into the setting for the 12 candidates.
She was impressed by the candidates, who debated for three hours without any teleprompters. Sometimes they would attack each other's positions on the issues. Riley would then observe them being friendly with each other during the commercial breaks, not showing any animosity.
"They were digging into each other a lot during the debate," Riley said this morning. "But then at the commercial break they were friends. They didn't hate each other."