Albion music program prepares virtual concert for veterans
Students have also written nearly 200 letters to local veterans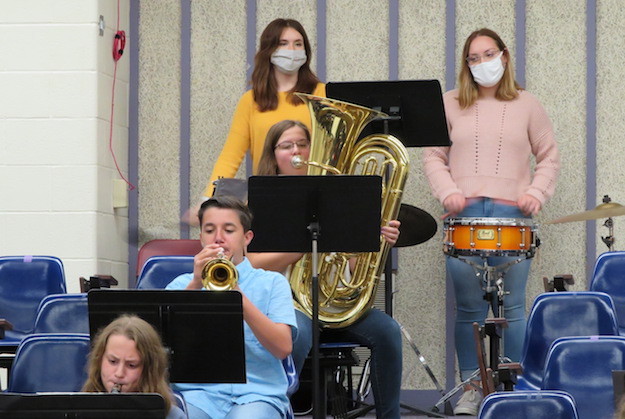 Press Release from Albion Central School
ALBION – Despite the changes and challenges Covid-19 has brought this year, students across the Albion school district are celebrating veterans.
Throughout the elementary school, students have been learning about what it means to be a veteran and writing letters to our local heroes, thanking them for their service.
Third grade teacher Danielle Cammarata is spearheading the letter-writing effort.
"Many of our students have family members in the Army, Navy, Marines and Air Force right now, so this project is extra meaningful to them," Cammarata said. "The letters will warm many hearts."
It's not only the students who have family members serving but many of the faculty as well. Sixth grade teacher Cathy Schmitt has put together a slideshow to honor staff member who served in the military or who have family members who are veterans.
"We usually play it in classes so the students can make connections with their teachers," Schmitt said. "It includes the family member's name, their branch of service and some other information they sent to me."
While traditionally the middle school has honored local veterans in an assembly, the presentation will be shared virtually this year with students and staff.
Cammarata says it is important to keep these traditions alive.
"It's really important to give thanks for the time, energy and dedication veterans have given to our country," Cammarata said. "I want the children to know and understand the sacrifices that they made to make it possible for all of us to live in this country and embrace the freedoms they fought for us."
This year, they received 192 letters.
Normally, the letters are sent out around the holidays, this is the first year they'll be sent out on Veterans Day.
"I think the performance and letters will let the community members know how much we appreciate and respect all that they have done for us," Cammarata said. "It's a small gesture, but hopefully it will bring a smile to those who have served."
Elementary band teacher Lindsey Almeter agrees, saying that while this will be her students' first Veterans Day performance, it is the perfect time to celebrate and connect with the school community.
"We were just looking for opportunities for students to still get to celebrate, perform on their instruments and connect with the community during a time where that connection is harder to make," Almeter said. "[We] decided that Veterans Day would be a wonderful chance to encompass all of those goals and the students have been very excited about sharing the work they've been doing."
The elementary school's performance will be pre-recorded and played over the morning announcements.
According to high school band director Michael Thaine, the High School Music Department has held a concert in early November for over four decades.
"For several years in the '90s and early 2000's it was held on the evening of Election Day," Thaine said. "In 2009, we moved the annual concert to the evening prior to Veterans Day, where it's been ever since."
The event is a celebration of our nation's veterans through American music, by American composers.
"Music has played such an important role in this country's history," Thaine said. " It only makes sense for us to honor our veterans through music."
While the pandemic has caused some limitations, including very limited rehearsal time, partial ensembles, and restrictions on public gatherings, the High School Music Department came up with an abbreviated virtual presentation. The program will still include some music, but also interviews with several veterans connected to our high school community.
"It's become a loved community tradition over the years, and our veterans deserve to know that, despite the necessary focus on pandemic precautions and those logical complexities, their service and sacrifices are still appreciated and not overlooked," Thaine said.
Make sure you look for the letters around Albion. They will be posted in Dunkin', The Village House, Save-A-Lot and Tops.
The 2020 High School Virtual Veterans Day Program will be posted to the district's YouTube channel (click here) on Nov. 10 at 7 p.m.