Albion middle schoolers create virtual time machine experience for musical
Show explores golden age of radio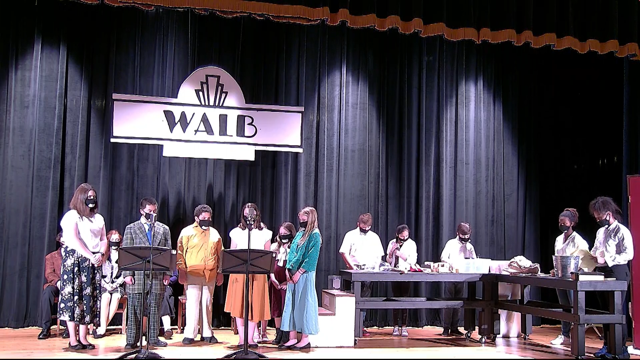 Photos and article from Albion Central School
ALBION – This year has been a challenging one in many ways, but that hasn't stopped the Middle School theatre department from bringing a musical to our community.
This year, the Middle School Drama Club chose to develop its own virtual production under the leadership of Director Carrie Kozody and Assistant Director Kevin Feder. Together, with their creative team (Kamie Feder, Samantha Flansburg, Greg Martillotta, Kevin Smith, and their Middle School students), they created a virtual time machine experience, exploring the golden age of radio entertainment.
"It is our pleasure to bring this performance to you and it is our sincere hope to be back on the stage for you in the fall," Kozody said. "But, until then, the show must go on! We hope you enjoy our theatrical exploration."
The title of their show is "Up and Down the Dial…A Radio Timewarp." The show takes the listener on a virtual trip back in time to the days when radio was the main source of entertainment as, by the end of the 1930's, nearly 83% of American homes had a radio in the living room. Through the use of the radio, parents and children alike crowded around the set to hear the latest version of their favorite show. Families could enjoy comedy acts, dramas, or "live" musical performances. Many of the programs promoted "old-fashioned" American values while the stories provided people a model to live by.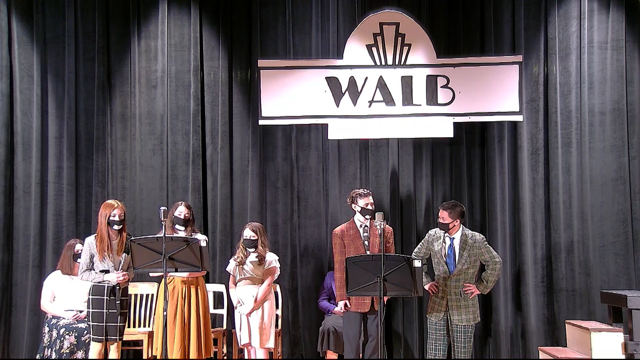 Keeping this in mind, the Middle School group chose seven scenes to share in their theatre production. These scenes range from children's stories (It Could Always Be Worse) to comedy (Who's on First) to family favorites (Father Knows Best) to Big Band selections played by the Middle School Jazz Band.
Through this experience, the group has learned about the programs that children and adults tuned into for entertainment, about the products that were popular at the time, and how the idea of the "sponsor" was born. The stage crew took a special interest in learning about the sound effects table and the sound engineers, who were needed to develop the sound effects necessary to help a listener to create a mental image of what is happening in the story. Such sounds could include a window opening and closing or the sound of boots walking upstairs, to name a few.
Additionally, the group learned that the use of radio was an excellent way to unite communities of people, even if only remotely, a concept that has become all too relatable as we continue to navigate challenges brought by the coronavirus pandemic.
"Up and Down the Dial…A Radio Timewarp" will be available for viewing on the School Youtube channel the week of May 10 and will be free of charge.