Albion middle school students paint flower-themed mural on Bullard Park building
'It's definitely bright, bold and beautiful'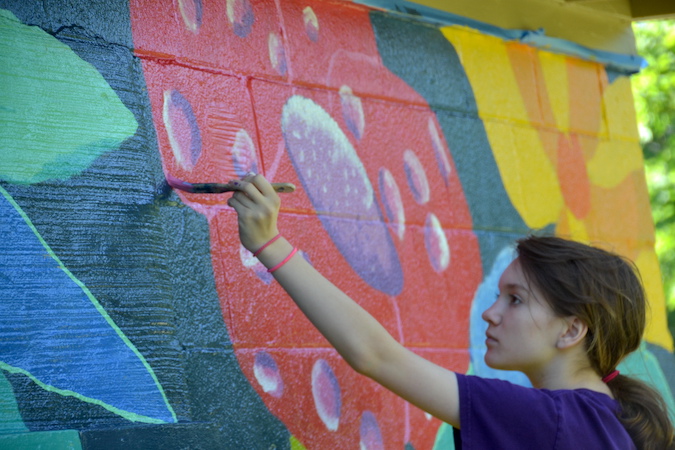 Photos by Tom Rivers
ALBION – Neveya Barnes, an eighth-grader at Albion Middle School, puts a finishing touch on a flower-themed mural on the back of the former bathrooms at Bullard Park.
That building is now used for storage after new bathrooms opened last year.
Neveya and 12 other middle schoolers have been painting the back side of the building since Wednesday.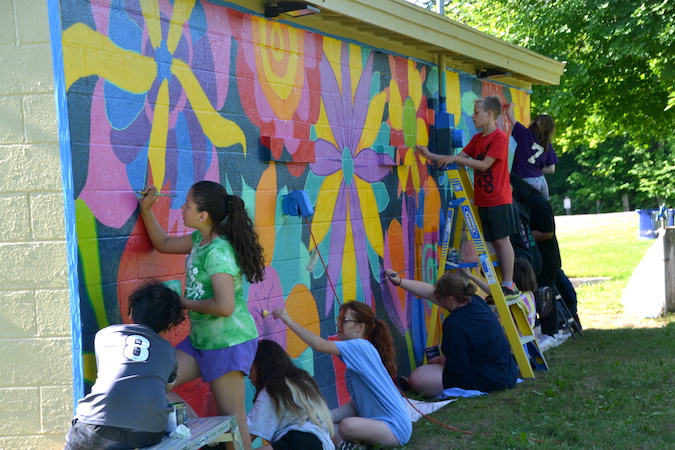 The students are giving the back of the building a bold and colorful look. The wall is 36 feet long and 8 feet high. It will be visible to people using the new walking trail and also to motorists from Clarendon Street.
Mary Delamarter, the village's deputy clerk-treasurer, reached out to the middle in late April about a mural. Village officials wanted to paint the building as part of the Day of Caring on April 27, but it was too chilly that day.
Rather than just paint it one color, Delamarter and DPW Superintendent Jay Pahura thought a mural painted by students would be a welcome addition on the west end of the park.
Students incorporated flower designs into the larger mural. They teamed with their art teachers, Kamie Feder and Tina Burgett, to block out the design on Wednesday. They have ben painting the last three days and will complete the project today.
Students who painted the mural include:
Sixth grade – Ayme Vallejo Morales, Drake Schomske, Mackenzie Cook and Sadie Money.
Seventh grade – Cerenity Johnson, John Marat, Abby Kipler, Kaiser Allport and Shayla Higgins.
Eighth grade – Neveya Barnes, Julissa Marmolejo, Jenna Barnard and Hanna Kumalac.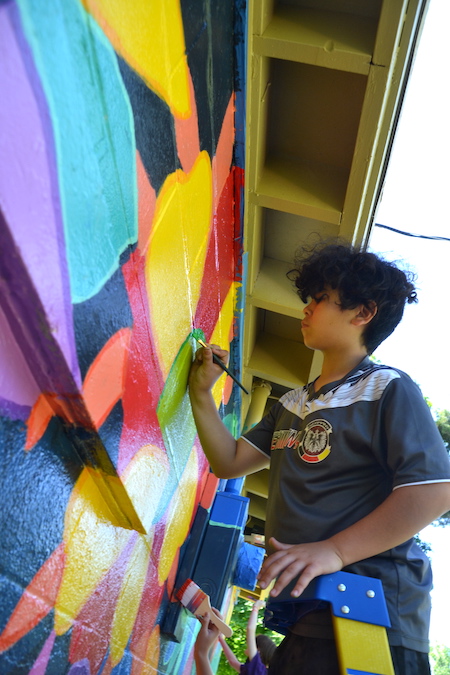 Kaiser Allport works on a finishing touch for the mural. The students painted the protruding pipes, blocks and a meter on the wall.
"It's definitely bright, bold and beautiful," said Feder, one of the art teachers.