Albion man graduates from State Police Academy
Steven Papponetti will work out of Williamson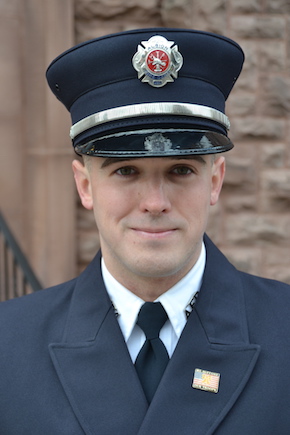 ALBION – Steven Papponetti, an active member of the Albion Fire Department, started a new career on Friday as a state trooper, working out of Williamson.
Papponetti was one of 226 new members of the State Police who graduated on Oct. 13 in Albany at the Empire State Plaza Convention Hall. The new graduates completed 26 weeks of training in the State Police Academy's Basic School.
Papponetti earned a four-year degree in forensic science and crime scene investigation from Hilbert College. He worked the past three months as a police officer for the Brockport Police Department before joining the State Police.
Papponetti has been active with the Albion Fire Department the past decade. He was an explorer at 14, a cadet at 17, and an interior firefighter by 18. In May 2015, he was named the "Firefighter of the Year" for the department.
He will remain an active member of the department, Papponetti said today. His father, Harry, is Albion's fire chief.
Gov. Andrew Cuomo congratulated the new state troopers on Oct. 13 during the graduation ceremony.
"After 26 weeks of hard work and perseverance, these Troopers will join the honorable tradition of serving and protecting the people of New York," Cuomo said. "I commend these men and women for their pledge to keep New Yorkers safe and congratulate them as they start their careers in the New York State Police."