Albion man deploys for Afghanistan, and fiancé seeks prayers for safe return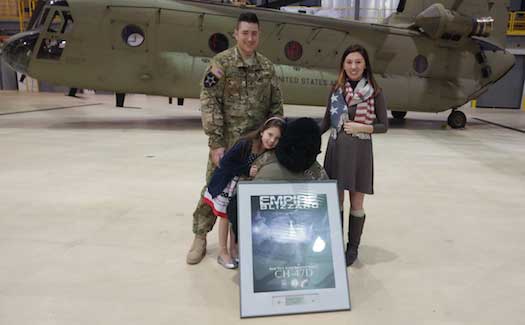 Editor:
My fiancé, Sgt. Michael Landauer of the U.S Army National Guard, is a true hometown hero. He is heading off to Afghanistan for his second tour along with a group of soldiers from his unit. He is part of Detatchment 1, Bravo Company, 3rd Battalion, 126th general support Aviation battalion based out of Rochester.
We are expecting a child during this deployment. Our hearts are heavy but we stand very proud! He selflessly serves our country with outstanding character and we are very lucky to call him our own!
He comes from a long line of service men and proudly serves our country like his father, uncles and grandfather before him.
Seen behind us in this photo are the CH-47F Chinook helicopters he flies on as a flight engineer. You may have seen or heard them buzz around town!
We ask for your prayers and well wishes to bring our men home safe.
Ashtone Cooper
Albion