Albion loses a beloved beech tree on Main Street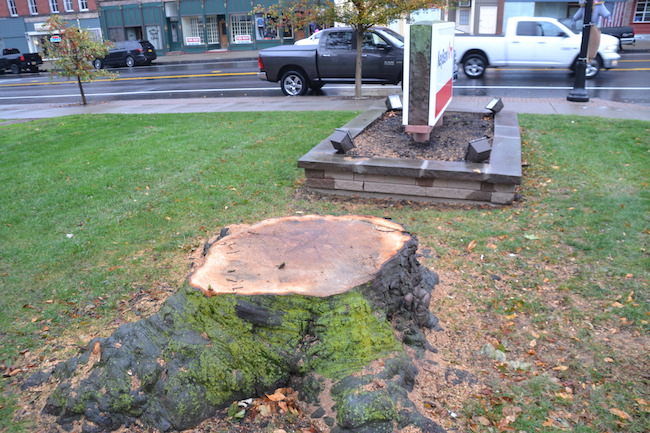 ALBION – One of the Village of Albion's landmark trees, a beech at 48 North Main St. in front of KeyBank, was cut down on Sunday.
KeyBank employees have heard sorrow from customers all week, several employees said today.
The tree was diseased, with many dead branches that were a safety hazard to the public, one of the employees said today.
The tree's takedown has been in the works for many months. First Niagara actually was supposed to have it removed, but that didn't happen. KeyBank had it cut down on a Sunday when the bank wasn't open.
Gary Kent, a member of the Albion Betterment Committee, has planted many trees on Main Street in recent years. He said the beech by the bank was one of the grandest in Albion.
"It burns me up," Kent said about the tree's removal. "It's a serious loss for the downtown."
The tree provided much needed "green" in the downtown, where there are few mature trees, Kent said.
KeyBank took over the site on Oct. 8, when the bank's acquisition of the former First Niagara branches became official. The tree was identified for removal several months ago, a KeyBank employee in Albion said today.