Albion Lions Club thanked for years of supporting Strawberry Festival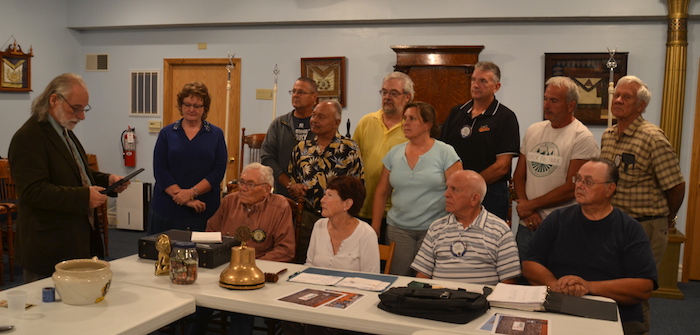 Photo by Tom Rivers
Strawberry Festival Committee Co-Chairman Michael Bonafede, left, reads a certificate of appreciation that was presented Tuesday evening to the Albion Lions Cub for their support  of the festival. Bonafede was joined by Karen Sawicz, second from from left, in presenting the certificate. She is a co-chair of the festival committee along with Don Bishop. Lions Club members include, front row, from left: John Keding, Mary Janet Sahukar (president), Lloyd Wright and Bill Robinson. Back row: Kevin Howard, Satya Sahukar, Sandy Church, Chris Buorgiorne, Dale Brooks, Ron Albertson and Dan Parker.
ALBION – In the three decades of the Albion Strawberry Festival, the Lions Club has always stepped up as a supporter. The club is a sponsor of the annual event the second Friday and Saturday in June. Club members also sell their popular sausage up near the Post Office.
Leaders of the Strawberry Festival Committee stopped by the Lions Club meeting on Tuesday and presented a certificate of appreciate to the members, including Club President Mary Janet Sahukar.
Michael Bonafede and Karen Sawicz, festival co-chairs, presented the certificate to the Lions. Bonafede said it takes many volunteers, and the support of local governments, businesses and service clubs to pull off the Strawberry Festival.
"We're very fortunate that our festival continues, because in many others communities it hasn't," Bonafede said. "People are generous with their money and time, and that's how we survive."