Albion Lions Club renames 'Pride of Pride' award for John Keding
Kevin Howard, mainstay for Lions Club, first honoree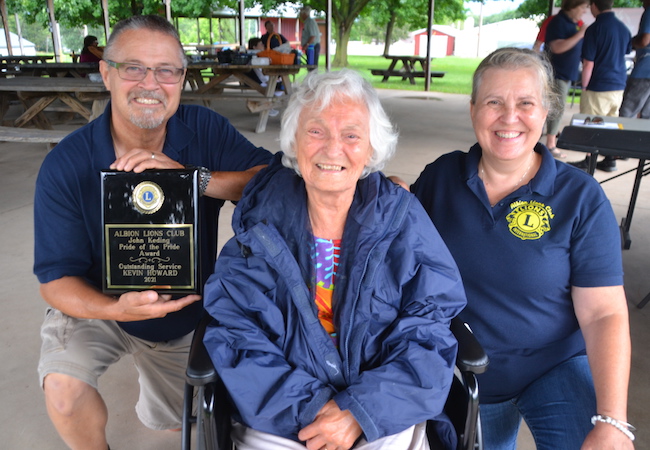 Photos by Tom Rivers
ALBION – Kevin Howard, left, was presented with the inaugural "John Keding – Pride of the Pride Award" during Tuesday evening's Albion Lions Club annual meeting.
The award was named in honor of John Keding, a Lions Club member for more than 50 years and a longtime local auto repair shop owner. He passed away at age 85 on Jan. 18. Howard is pictured with Keding's wife, Pat, and their daughter Christine Buongiorne.
Kevin Howard and Mark Johnson work the grill during the Lions Club meeting which was held outside at the Elks.
Howard, a retired state trooper and former Albion town justice, has been a member of the Albion Lions Club for 15 years. He was praised for his willingness to cook food during Lions Club fundraisers. He also helps the first Friday each month for the Community Kitchen in Albion, when the Lions take a turn preparing the meals.
"It's a way to give back to the community, and the this community has been very good to me," Howard said.
The Lions Club isn't a demanding commitment, he said.
"It's fun and you get to see a lot of people," Howard said.
The award winner also helps with cleanup projects, and brings a positive attitude.
"He is very hardworking and fun to be around," said Mary Janet Sahukar, the club secretary. "He keeps things moving."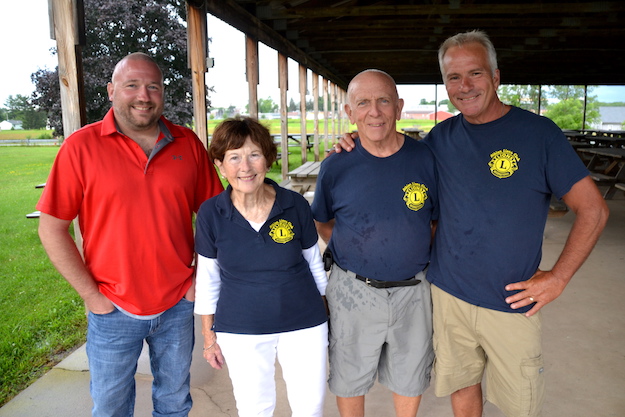 The club also installed its officers for 2021-22, including from left: Dan Conrad, president; Mary Janet Sahukar, secretary; Lloyd Wright, treasurer; and Ron Albertson, vice president.
Conrad said the club wanted to honor Keding with the Pride of the Pride Award.
"That man was Mr. Lion," Conrad said. "I could be a Lion the rest of my life and not fill his shoes."
The club on Tuesday also welcomed two new members: Ben Lennox and Jonathan Doherty.