Albion Lions Club honors 2 for community service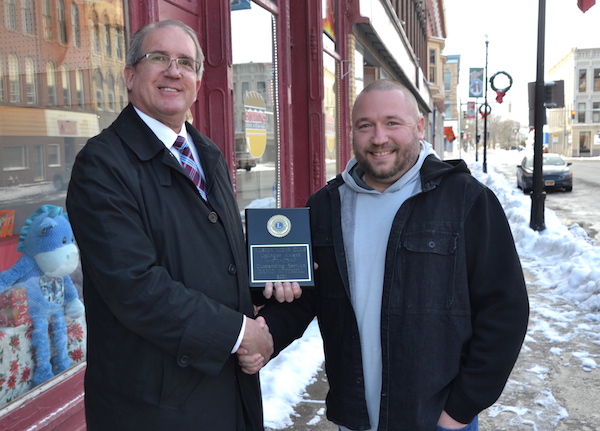 Photo by Tom Rivers
ALBION – David Mitchell, left, is presented with the Robert J. Uplinger Award for dedicated community service by Dan Conrad, president of the Albion Lions Club.
Mitchell, owner of Christopher Mitchell Funeral Homes, was praised for supporting many events and causes in the community.
For more than 30 years he has also managed the Lions Club's fund for eye glasses and exams for community members.
Mitchell said his late father, Rho, was an active Lions Club member for many years and set a good example for giving back to the community.
David Mitchell said he has delivered thousands of pairs of glasses collected in the Albion community to Rochester. Sight remains one of the Lions Club's main missions.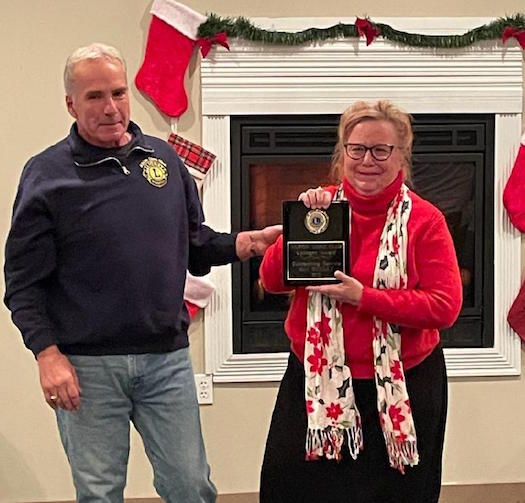 Provided photo
The Lions Club also presented Kim Remley with an Uplinger Award for her work in the community. Club member Ron Albertson presents Remley with the award last week at the Black North Inn.
Remley was a key member of the Rebuild Bullard Committee that was instrumental in about $800,000 of upgrades to Bullard, including a new spray park, amphitheater and pavilion with bathrooms.
Remley also is active in organizing the downtown Fall Fest, including a scarecrow competition.
"She is always cheering on the community and bringing the good vibes," Conrad said.