Albion inducts 17 into National Junior Honor Society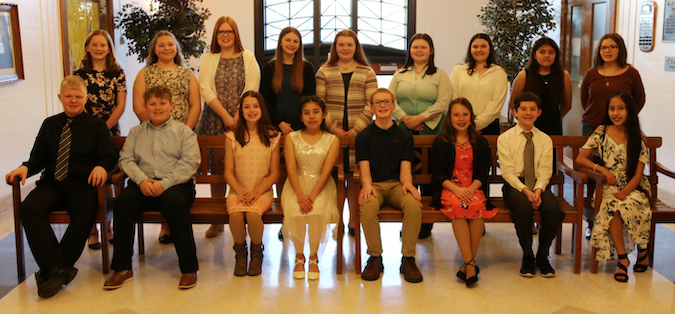 Photo and information courtesy of Albion Central School
ALBION – Seventeen seventh-grade students from Albion Middle School were inducted into the National Junior Honor Society during a ceremony Thursday night.
Phoebe Allen, Olivia Andrews, Lily Brigham, Adam Burgio, Shayla Cruz, Brooke Doty, Yaritza Fernandez Perez, Heidi Franco-Lopez, Loralei Gailie, Anna Grillo, Jillian LeBaron, Bradley Pierce, Meadow Smith, Jackson Snook, Mason Snook, Ava Woolston and Abigail Worsley all took the oath, signed their names and became formally recognized as members of the prestigious organization.
The National Junior Honor Society was established in 1929 and today estimates it is made up of more than one million members across the country. NJHS elevates a school's commitment to the five pillars of membership: scholarship, leadership, service, character and citizenship.
Spanish teacher Mrs. Casey Flynn was chosen by NJHS students as the guest speaker for the ceremony. She discussed the ways students can exhibit the five pillars in their everyday lives and the value they have.
Current members led the ceremony. Those students are Kailee Anstey, Neveya Barnes, Nisi Beltran Roblero, Kaitlin Bennett, Elliot Beyrle, Julia Button, Lindsay Crawford, Abigail Ferris, Benjamin Fleisher, Kaiden Froman, Aubrey Gannon, Amiyah Jones, Justin Kania, Abigail Kincaid, Hanna Kumalac, Nathaniel Miesner, Madison Muckle, William Plummer, Pablo Rosario Reyes, Alondra Santana Gonzalez and Joshua Zayac.
Barnes, Beltran Roblero, Ferris, Gannon, Kincaid, Plummer and Zayac were all recognized for earning the Service Award. The advisor of Albion's NJHS is Mrs. Lisa Castricone.