Albion hosting big soccer tourney this weekend with about 70 teams
Event with several hundred players is in memory of Ben Kirby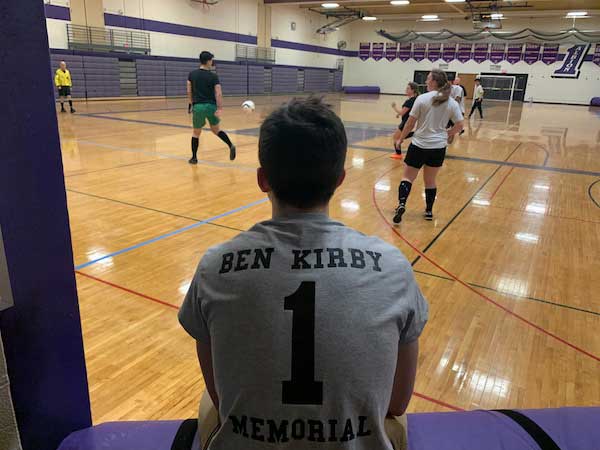 Photos by Tom Rivers
ALBION – Connor McQuillan, formerly of Albion, watches action at today's Ben Kirby Memorial Indoor Soccer Tournament. Connor's dad Sean played goalie for one of the teams. Sean organized the tournament for several years.
About 30 teams played today at the high school and elementary school gyms. The tournament continues on Sunday with about 40 teams competing.
Each team has a minimum of five players. Several hundred players will be in Albion for the tournament.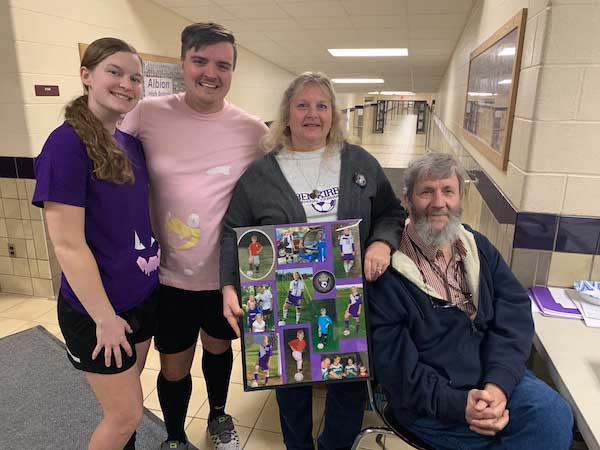 Dennis and Wendy Kirby, right, are Ben's parents. They are pictured with Cole Schmitt, the main organizer for the tournament, and his girlfriend, Katlynne Tubo, who also is a key organizer.
Ben Kirby was a long-time Albion soccer player whose family has been dedicated to the program at Albion.
Kirby was a student at the Rochester Institute of Technology when he died in a car accident on Nov. 6, 2017, on Route 531 in the Town of Gates. He was 21 at the time, in his senior year majoring in software development.
"We're so thankful and appreciative that they remember our son," Mrs. Kirby said.
The family works with the Albion Alumni Foundation to give two $500 scholarships each year in Ben Kirby's name. The scholarship is to be given to a student nominated by one or more of the teachers in the Albion High School. It is intended for someone who is a "good kid" who may not be a Scout, but best exemplifies the characteristics of the Scout Law that Ben lived by: A Scout is Trustworthy, Loyal, Helpful, Friendly, Courteous, Kind, Obedient, Cheerful, Thrifty, Brave, Clean and Reverent.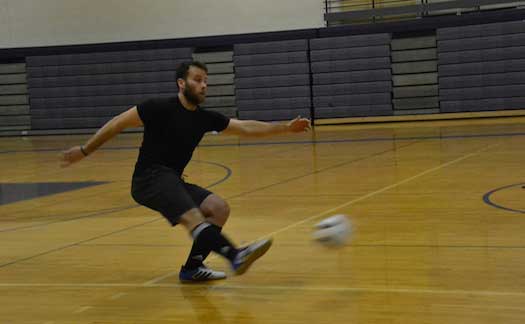 Aaron Kirby, Ben's older brother, was among the players in today's open division games. Aaron lives in Buffalo.
Most of today's players were girls at the junior varsity and varsity. An open division also was available to adults – men and women – later in the day.
On Sunday, most of the teams will be boys at the elementary, junior high, JV and varsity levels.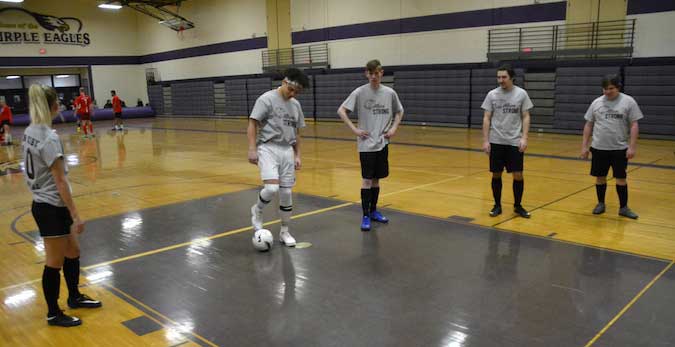 Kendyll Hadick and his Albion teammates warm up before their game in the open division.