Albion honors retiring teachers and staff
Kindergarten teacher named 'Educator of the Year'
ALBION – The school district recognized several retiring long-time staff and teachers during a recognition program this evening.
Albion also presented its annual "Educator of the Year" to Debra Perry, a kindergarten teacher.
She was praised for giving her students a solid foundation in their education. Perry has been a kindergarten teacher the past three years, after working 18 years as a third grade teacher. She started as a long-term substitute teacher for Albion.
She has also helped with the Student Leadership Council and the recycling program at the elementary school.
"When your name is mentioned, it is always stellar," Margy Brown, president of the Board of Education, said in presenting the award.
Perry has an outgoing and upbeat persona, and is very positive in encouraging her students.
"I accept every child and believe everyone can learn," she said.
Perry said she is thankful she choose the teaching profession.
"I love not knowing what will happen next," she said. "Every day is a new day."
The following retiring teachers and staff were recognized: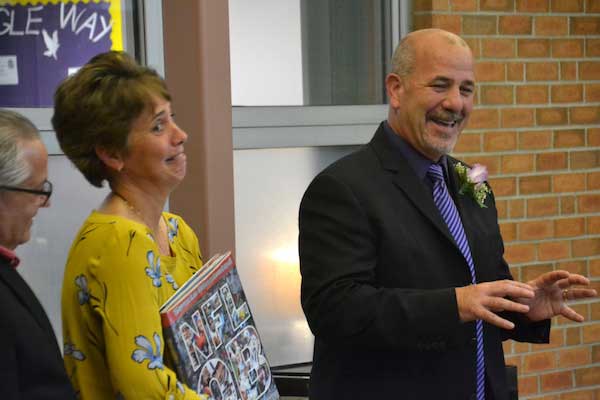 Dan Monacelli is retiring as middle school principal. The Albion native started his teaching career in Elba, and returned to Albion as a Correction Room specialist. Then he taught health before getting into administration at Pembroke and the Niagara Academy. He was hired as high school principal at Albion in 2007 and then moved over to lead the middle school.
He is telling a funny story about when he was in a bicycle safety video and wiped out, bloodying his face in a video that was shared by many of the teachers. Margy Brown is holding a book that will go in the school library in Monacelli's name.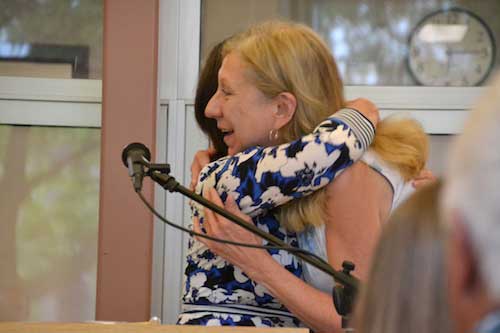 Karen Hobart gets a hug from Elementary School Principal Rachel Curtin. Hobart is retiring after 34 years as a first grade teacher and three years as a long-term sub. She started her career in 1972 at the former St. Joseph's School in Albion. Curtin said Hobart "is a maverick for all of the right reasons."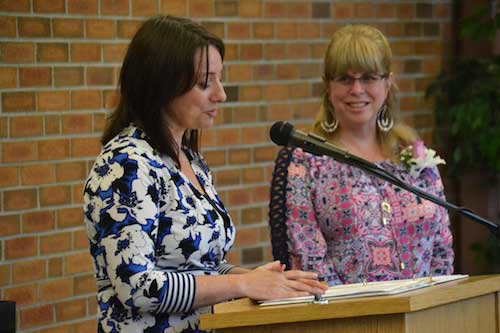 Rachel Curtin praises Janet Husung, a retiring kindergarten teacher, for her devotion to students over 28 years. Curtin said Husung's students make big educational gains during their first full year in school.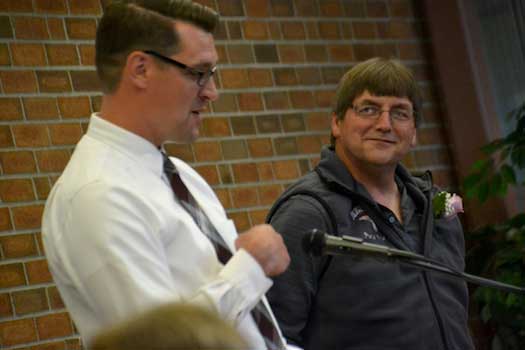 High School Principal Matt Peterson praises Wayne Wadhams for his service as as technology teacher and coach – football, track and field, and girls basketball. Wadhams started his teaching career at Albion at the former Waterport Elementary School.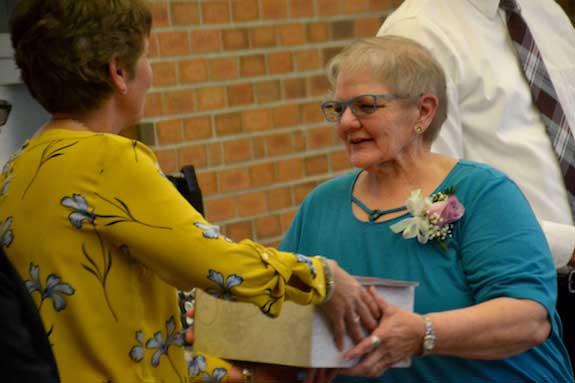 Lu Johnson, a teacher assistant for Albion's Community As Schools program for 17 years, has been influential for her students. Many of them stay in touch and seek her advice as adults. "She has made it a mission to connect with every student," Peterson said. "She accepts everyone and remains supportive to students after they graduate."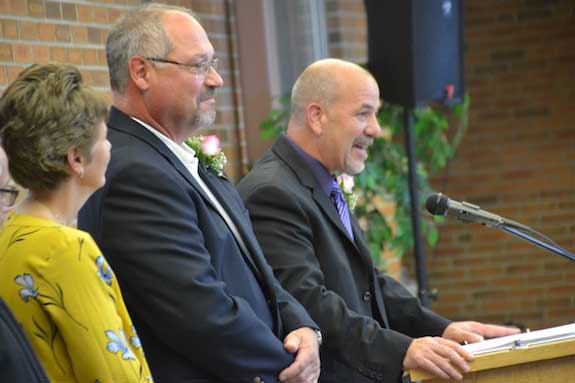 Dan Monacelli gives glowing accolades to Keith Piccirilli, who is retiring after 36 years of teaching social studies. Piccirilli also was the offensive and defensive line coach for the football team for 33 years and helped Albion win league and sectional titles, as well as two state championships. He also coached wrestling for 34 years and his teams won 325 meets.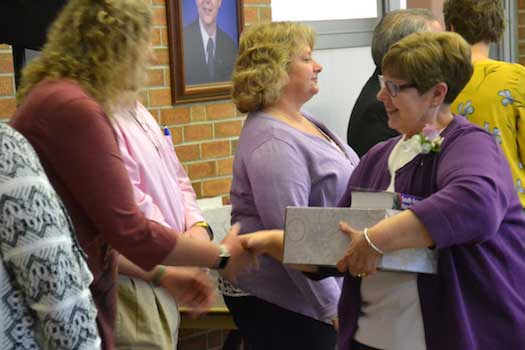 Sue Landis is congratulated by members of the Board of Education on her retirement. She launched the district's Spanish program in 1979 and has been dedicated to it for more than three decades.
Other retiring teachers not at the recognition program include Jonathan Sanford, middle school social studies for 34 years; Mark Vanderkarr, high school science for 32 years; and Mark Parsons, high school social studies for 29 years.
The district also recognized Mary Ann Donnelly for nine years of work in public relations for the district, and Debra Schomske for 17 years as a typist in the district office.
Two Board of Education members also will be leaving: Dean Dibley, the current board vice president, served 10 years. Marlene Seielstad served a five-year term.