Albion honors PTA as 'Friend of Education'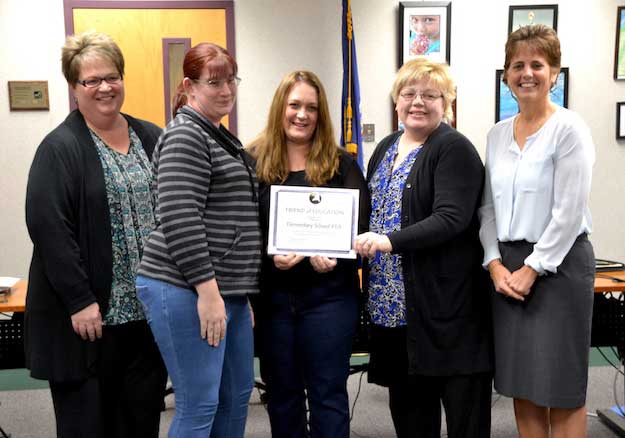 Photo by Tom Rivers
ALBION – Members of the Albion Elementary School PTA were presented a "Friend of Education" Award on Monday. Leaders of the PTA include, from left, Stacey Andrews, Crystal Hand, Heidi Pask and Rose Allen. They accepted the award from Margy Brown (right), the Board of Education president.
"This is a group that works tirelessly on behalf of students," said Michael Bonnewell, the district superintendent.
The PTA purchases books every year for all fifth-graders, puts on dances, provides gifts for teachers, and sponsors field trips for students to go to the zoo, Old Fort Niagara, to tour canal boats in Lockport, the Cobblestone Museum in Gaines, and the Genesee County Park and Forest in East Bethany.
The PTA also organizes a book fair in February.
"They have truly coalesced as a group of caring parents," said Rachel Curtin, the elementary school principal.
The board on Monday also recognized two elementary school students. Braydon Blair was presented with a Leadership Award and Gabrielle Payne was recognized with the Character Award.