Albion High School inducts 23 students into NHS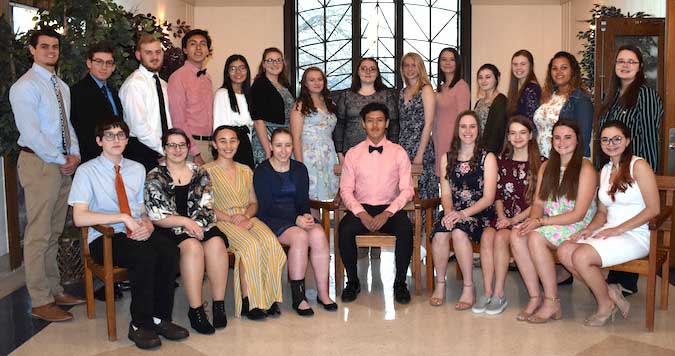 Photos courtesy of Albion Central School
ALBION – Last week 23 new members were inducted into the National Honor Society at Albion High School. These members met the criteria set forth by NHS of scholarship, service, leadership and character.
The new members include, sitting (l-r): Damian Wilson, Casey Starkweather, Avalina Hand, Angelica Genno, Angel Rosario Soto, Sierra Newton, Alexis Creasey, Ella Knaak and Lacey Standish. Standing: Bryce Pritchard, Daniel Grabowski, Thomas Furmanski, Chase Froman, Susan He, Ashlyn LeBaron, Laiken Ricker, Brooklynn Reed, Mariah Plain, Molly Wadhams, Abigail Tucker, Loren Beam, Katelyn Spierdowis and Jocelyn Bedard.
NHS member Trinity Allen introduced English teacher Kristin Roche as the 2019 Excellence in Teaching Award winner. Mrs. Roche shared with the audience that she is a "story seeker" and believes there is power is sharing our stories. She sees student writing filled with triumph, perseverance and strength.
She acknowledged that students are not often given a platform to have their voices heard but she believes their voices are shaping the future. She encouraged NHS students to "step outside of your comfort zone and embrace your own journey, whatever and wherever it may lead," and to share stories of hardship and triumph because it "just might be exactly what some other sweet soul needs to hear."
The NHS members also took time to recognize staff members who exemplified the organization's ideals of Scholarship, Service, Leadership and Character.
• Sixth grade English teacher Lee Sheehan received the Character Award from NHS member Kirsten Struble. Kirsten said, "Students gravitate towards Mrs. Sheehan because she is a very understanding and easy person to talk to. Mrs. Sheehan wants her students to be successful and life-long learners. Her favorite part of teaching is when she will see a student have that light bulb moment where maybe they had been struggling with reading and then suddenly start using strategies without being prompted."
• High School English teacher Mrs. Roxanne Bieler received the Scholarship Award from NHS member Harrison Brown. Harrison said, "Mrs. Bieler has impacted the lives of many with her outstanding ability to teach. She goes above and beyond in making sure that her students know their material and truly understand the connections that they need to make. She is willing to go the extra mile to help any student that may be struggling."
• Guidance office secretary Elisha Hill received the Leadership Award from NHS member Mathew Kovaleski. Matthew said, "As seniors we find ourselves visiting the guidance office quite often.  We stop in to get assistance as we apply to our colleges, seek out scholarship opportunities and make sure we are on track with everything we need for graduation. Every time we open that door to the guidance office, Mrs. Hill is there greeting us with a smile and offering a helping hand with what we need as we prepare for this next journey of our lives. It is evident that Mrs. Hill takes pride in helping students progress and grow. "
• Mr. Tim Archer received the Service Award from NHS member Tess Pettit.  Mr. Archer leads sixth grade citizenship and seventh grade service-learning classes. He is also the high school Rotary Interact Advisor. Tess said, "Mr. Archer helps students seek out service opportunities and to value their role as citizens. He decided to become a teacher because he saw teaching as a great opportunity to influence our community for the better for the generations to come."