Albion grads praised for resiliency in pandemic
Students urged to focus on who they are, rather than what they will do for careers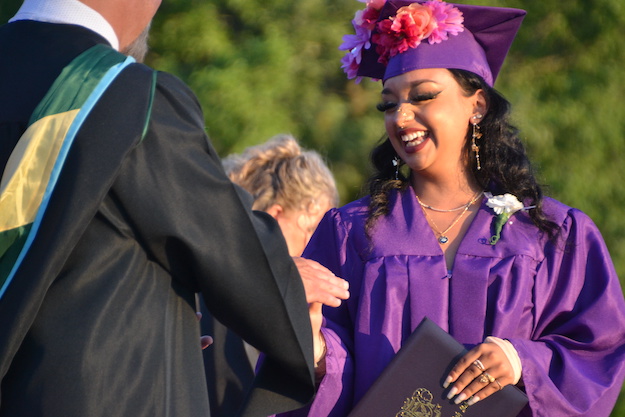 Photos by Tom Rivers
ALBION – Arianna Tyler is decked out for graduation on Friday in Albion. She walks across the stage to accept her diploma. She is one of 136 in Albion's Class of 2022.
Graduation was held outside on the football field for the second straight year. This time the grads sat on the field instead of in the bleachers like in 2021.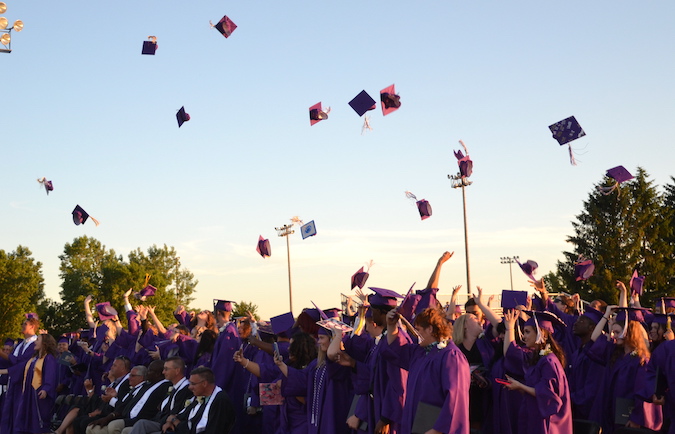 The graduates toss their caps near the end of the 90-minute ceremony.
The students were praised by High School principal Jennifer Ashbery for responding to the Covid-19 and its impact on their education. The students abruptly were forced to go from in-person classes to on-line only in mid-March of 2020 until the end of that school year. Then much of the 2020-21 school was with a hybrid model, with two days in-person and three days of remote learning.
"This class has distinguished itself by its resilience," Ashbery said.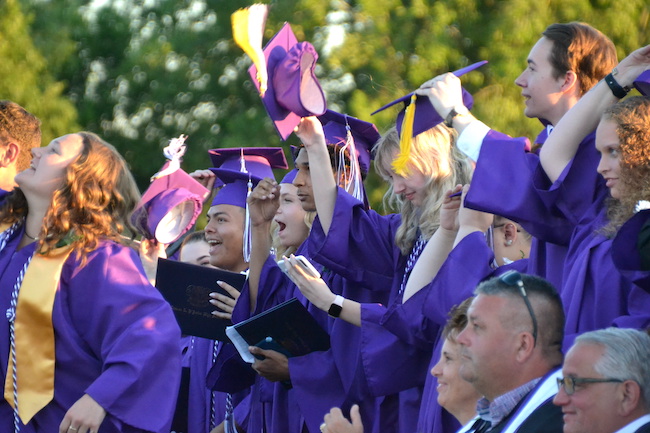 These students are happy after receiving their diplomas and getting ready to toss their caps.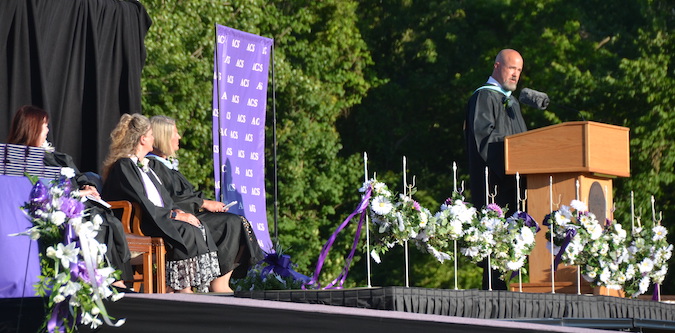 Mickey Edwards, the school district superintendent, praised the group for their flexibility during the Covid pandemic, and for developing a level of independence in completing their schoolwork.
"Your world was flipped upside down but you adapted," he said.
Board of Education President Linda Weller also commended the class for succeeding and meeting the standards of graduation during a challenging two-plus years of the pandemic.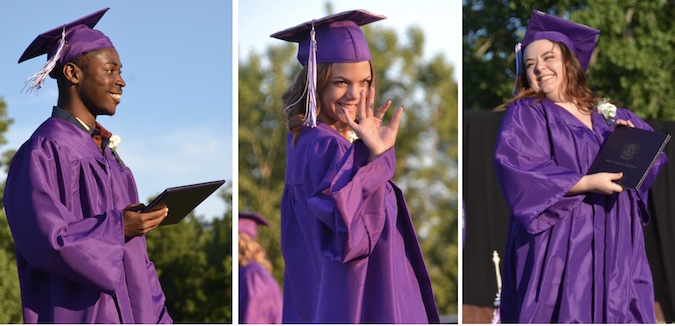 These students are excited after receiving their diplomas. From left include Kemony Hamilton, Lily Zambito and Zoe Cusson.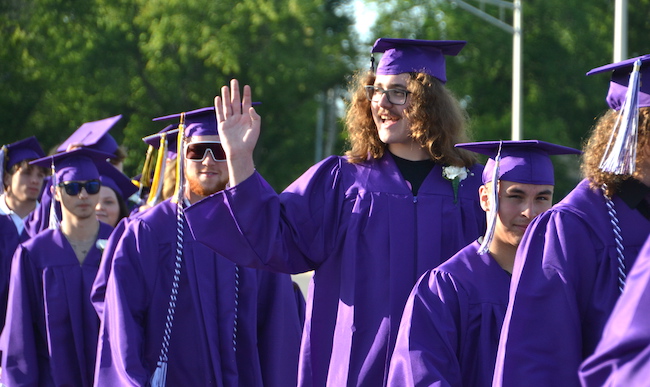 Samuel Fry waves to a friend in a procession to the football field. In front of him is Bryce Froman and Tyler Gibson is behind him.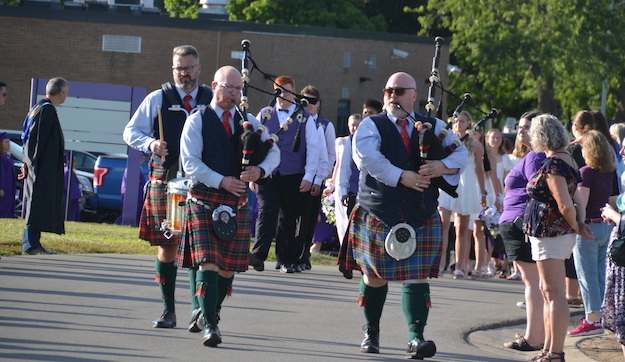 The Caledonian Pipe Band continued a graduation tradition with bag pipes played at the beginning of the ceremony and then during the recessional.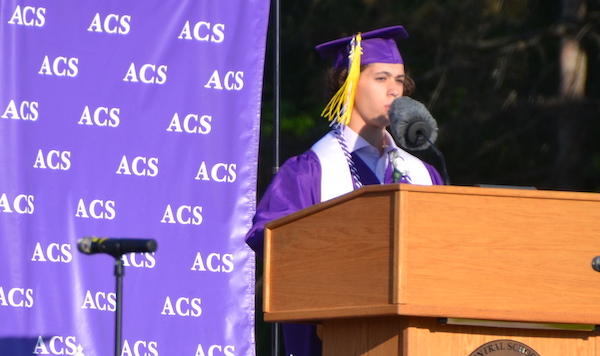 Class President Carson Bader gave a welcome address as a class president and then the salutatory speech. Bader will be a childhood education major at St. Bonaventure.
Bader has played in youth hockey leagues for several years. He shared how he first struggled to skate, even landing on his face. He is diminutive in stature and many of the bigger players would knock him down or ram him into the boards.
But Bader said he didn't give up. His skating improved to where he could pass and shoot the puck. He developed an awareness on the ice to avoid some of those big hits, too.
He compared hockey to what many of his classmates have faced and will confront in life. His classmates, just like his teammates in hockey, have been an extended family.
"So for some advice in the future, lace up your skates and keep working hard towards what you are passionate about," Bader said. "Learn to pass and shoot, developing the skills you require from yourself to do what you love. If someone hits and knocks you down, get right back up and face those challenges with determination. And most importantly have each other's back because no matter how far our small Albion family spreads, we will all be connected by the fact that we are members of the 2022 graduating class!"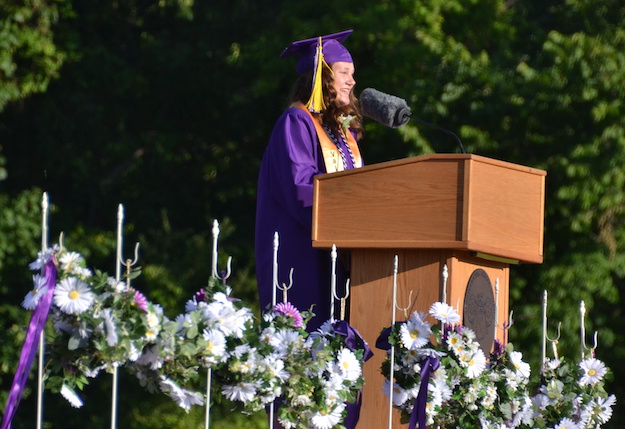 Leah Kania delivers the valedictory address. She will major in vocal performance at Baldwin Wallace University in Ohio.
Kania said students, going back to kindergarten, have been encouraged to think about what they want to do as adults for careers. When she was in kindergarten, Kania said she wanted to be a bunny rabbit, while other classmates wanted to be rock stars, professional athletes, teachers, astronauts, even Santa Claus.
Kania said whatever she and her classmates do for jobs "are merely a piece of who we are." She urged the grads to focus more on who they are, rather than what they will do for careers.
"We will experience bumps and unexpected turns on our paths, and at times we may feel that life is fighting against us," she said. "But these times are chances for us to grow from our experiences. We must see the mistakes we make as opportunities to learn and exhibit our resilience. These are the moments that make us who we are."
She said that life is unpredictable and the world is often a harsh place.
"We must always remember to spread joy and be kind, in order to lift each other up so that we can all rise together," she said. "Love one another and don't be afraid to show it. And most importantly, smile and be happy with your life. Our positivity will be infectious. It won't be our material possessions that will be remembered, but who we are."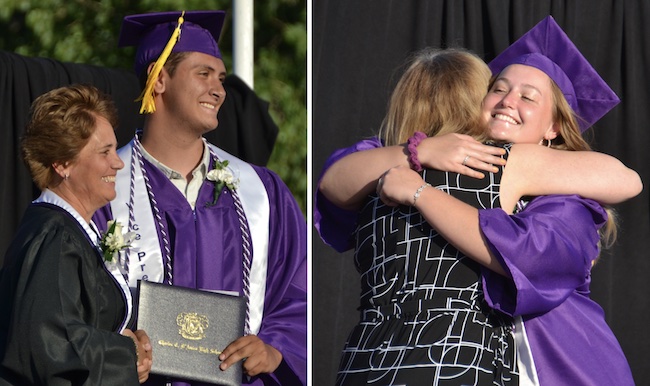 Two of the graduates were able to receive their diplomas from their mothers because of their service on the Board of Education. Margy Brown presented her son Jeffrey with his degree. Emily Harling hugs her mother Kathy after Emily received her diploma.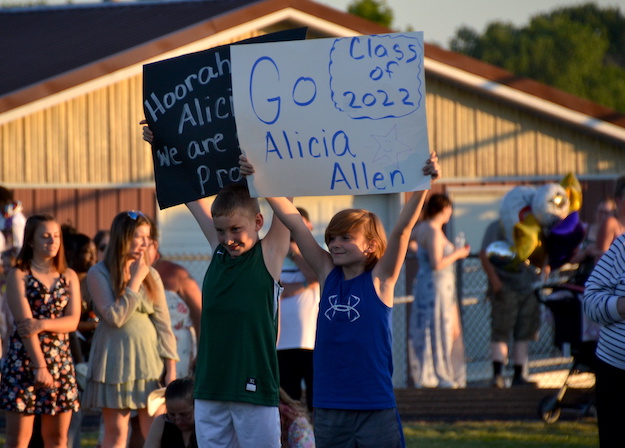 These two hold up signs congratulating Alicia Allen on graduating.