Albion girls soccer 'Believe' as they get ready for sectional final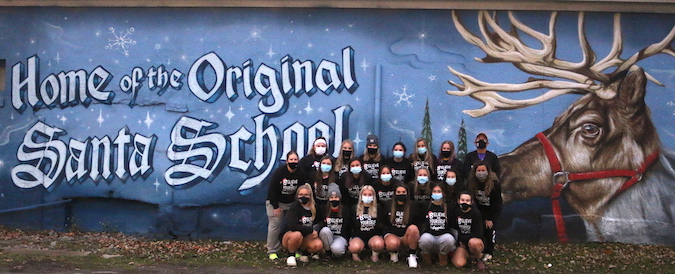 Photos courtesy of Barbie Hapeman
ALBION – After practice today, the Albion varsity girls soccer team went by the new mural on the northside of the Lake Country Pennysaver building. The mural highlights Albion as home of the first Santa Claus School, which was led by the late Charles W. Howard from 1937 to 1966.
The team, which plays in the sectional finals on Saturday against undefeated East Aurora, wanted to capture some of the "Believe" magic.
The players are all wearing T-shirts that say, "Believe in yourself and you will be unstoppable." There is a Santa hat on the "B" in Believe.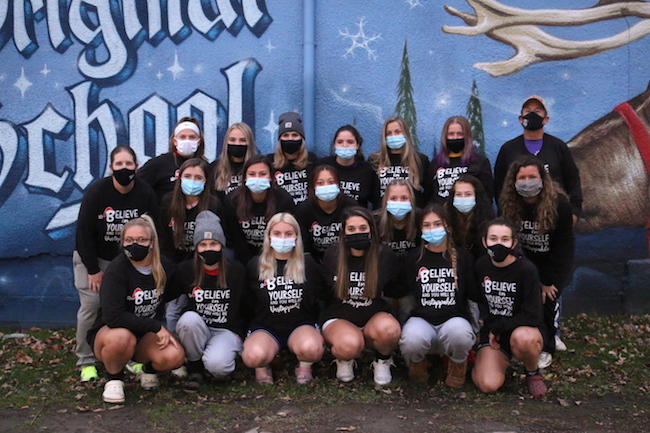 The group pictured includes, front row, from left: Maddy Snook, Kailey Merrill, Brittney Spies-Hunt (Captain), Lauren Wehling, Bonnie DiCureia and Claire Squicciarini (Captain).
Middle Row: Assistant Coach – Sara Kappenhaver, Olivia Bieber, Ryan Olles, Aurora Serafin, Nora Hapeman, Elisa Bropst, Head Coach – Maggie Orbaker.
Top row: Abby Scanlan, Charley London, Ally Knaak, Olivia Krenning, Sydney Mulka, Emily Harling, Assistant Coach – John King.
Missing from photo: Leah Pritchard, Grace Elscher and Nicolina Creasey.
After a 1-3 start, Albion has won eight in a row to advance to the sectional finals for the third time in the last four years. The team will be leaving Albion at 8:45 Saturday morning. The community is welcome to give them a sendoff along Route 31. A group is expected to gather at the CRFS parking lot to wish them good luck.