Albion football starts Big Brother program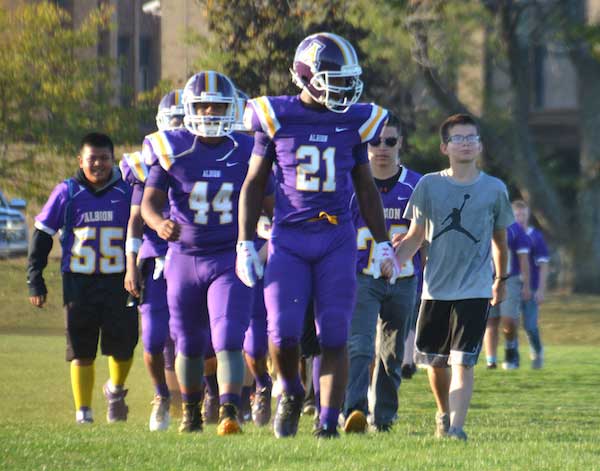 Photos by Tom Rivers
ALBION – Varsity football player Shyheim Jakes, number 21, walks towards the football field with Jack Ludwick, who plays on the modified team. Each varsity player walked to the field for Homecoming on Sept. 22 while holding hands with a modified player.
It's part of a new Big Brother program, where varsity players are paired with kids who play on the modified program in grades 7 and 8.
There are about 30 players on both varsity and modified. Adam Krenning, the head varsity coach, said the program is intended to make the modified players better student athletes. The varsity players help some of the modified team members with homework and stress the importance of keeping their grades up.
"This program gives the younger player a big brother to talk to," Krenning said. "It is our hope that this program will build a relationship between our varsity and modified student athletes."
Krenning said he hopes players from both levels will attend each other's games. Some of the varsity players, who are now 5-0 on the season, have attended the modified games which was a thrill to the players in seventh and eighth grade, Krenning said.
The modified players have also joined the varsity players on the field for warmups before the home games. Krenning said that shows the modified players how to prepare for the game and gives them a sense of the thrill of playing under the lights before a big home crowd.