Albion first responders, students send powerful message against drunk driving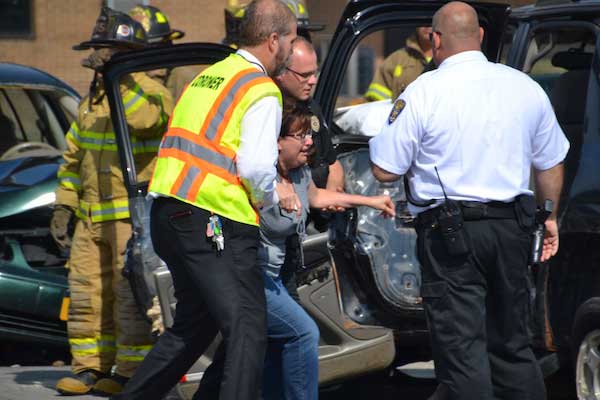 Photos by Tom Rivers
ALBION – Renee Van Epps, mother of student Hannah Van Epps, reacts during a DWI simulation after seeing her daughter on a stretcher and pronounced dead this morning. It was part of a demonstration to send a message about the dangers of drunk driving.
Van Epps wailed in agony when she saw her daughter wearing fake makeup to show blood.
"That was probably the worst experience ever and it was fake," Van Epps told students after in an assembly at the gym. "I can't imagine if it was real."
Albion students have their prom tonight and will be attending graduation parties later this month and over the summer.
They were given a powerful reminder this morning about the dangers of drunk driving.
There was a simulated car crash in the high school parking lot, with five students wearing makeup to show blood from the accident. One of the students didn't survive and was taken from the scene by a hearse from Christopher Mitchell Funeral Homes. Three other students left by COVA Ambulance.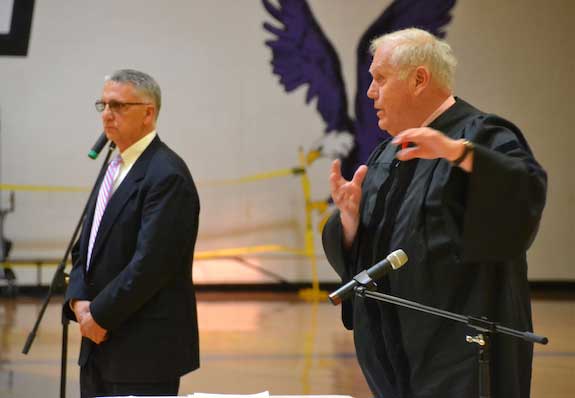 Orleans County District Attorney Joe Cardone, left, and Gaines Town Justice Bruce Schmidt were part of an arraignment and sentencing for Smith. Schmidt said judges often have to sentence defendants to mandatory sentences in prison.
Cardone told the students they have worked hard to get to this point in their lives. He urged them to responsible.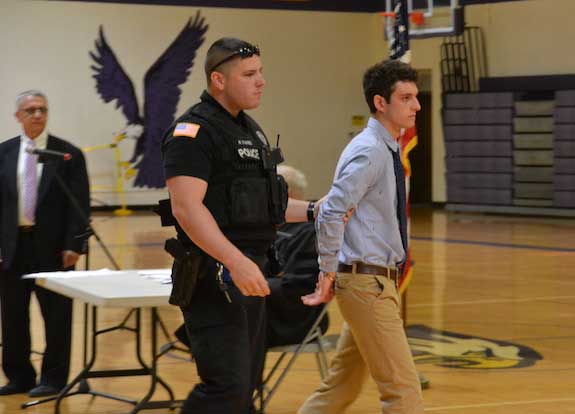 Nate Smith is led away in handcuffs by Albion Police Officer Nathaniel Staines after Judge Schmidt sentenced Smith to 15 years in state prison for first-degree vehicular manslaughter and three counts of vehicular assault in the first degree.
Nate's parents were also there and asked for a goodbye hug, but they were denied by the judge.
Cardone said the crimes not only affect victims but the people responsible for the crimes and their families.
The DA said many people with promising futures make bad decisions and have to live with the repercussions.
"Mr. Smith needs to understand when he gets behind the wheel he takes responsible for the other occupants of the car and the other drivers on the road," Cardone said.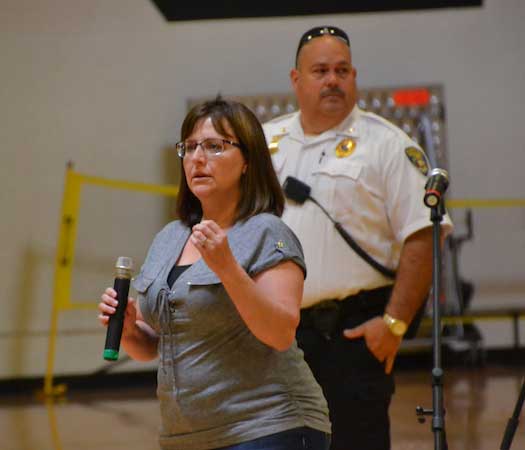 Renee Van Epps urged the students to make good decisions.
"Words don't describe the agony you feel when someone you know dies in a senseless way," she said.
Albion Police chief Roland Nenni is in back. He thanked Van Epps and the students for their participation in the simulation.
Nenni urged student s who have been drinking to not drive. If students believe they don't have any options for a ride home, Nenni said they can always call the Albion police for a ride.
He urged the students to intervene if they see a classmate get behind the wheel after drinking.
"Have courageous convictions," he said. "Don't let people drink and drive and destroy other peoples' lives."