Albion fire spread to 2 neighboring houses
1 person taken to Strong Memorial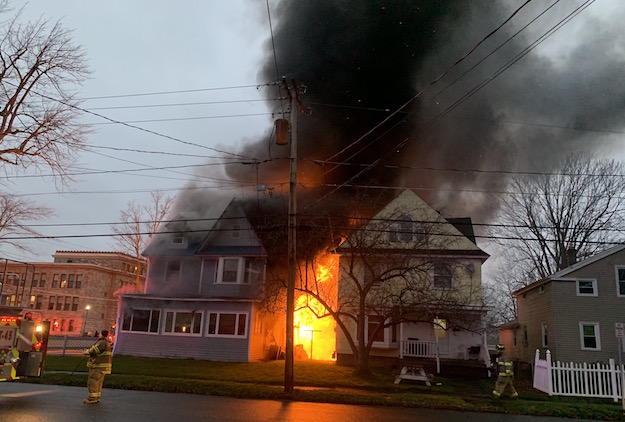 Photos by Tom Rivers
ALBION – Albion firefighters arrive on scene soon after being dispatched to a fire at 221 West State St. The fire caused extensive damage to the house on the left and also spread to the attic of the yellow house next door.
Shelby firefighters are up high in their ladder truck to attack the roof where the attic was on fire and full of smoke at a house on East Academy Street.
The neighboring structure and its garage were first on fire and it spread to two other houses, one on East Academy and the other on West State Street.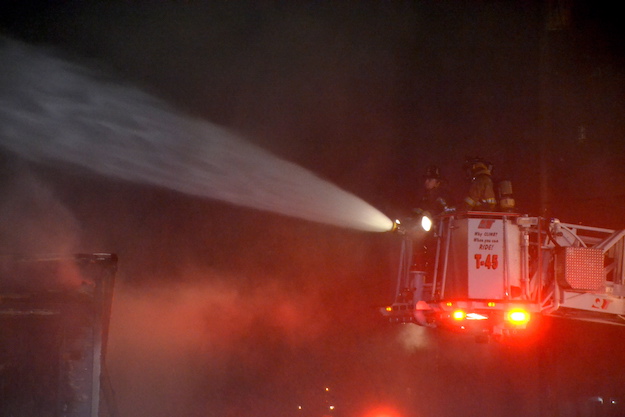 Firefighters were called to the scene at about 4:30 after a loud explosion and reports of a structure fire. There were two more explosions when Albion firefighters arrived on scene, said Albion Fire Department Lt. John Papponetti.
One person at the house was taken by ambulance to Strong Memorial Hospital where a friend said he suffered from smoke inhalation and a perforated eardrum. His name hasn't been released.
Firefighters believe the fire started in the garage and quickly spread. Fire investigators from the county and state are on scene, trying to determine the cause.
The house at the corner of East Academy and West State Street looks like a total loss. The house next door on West State Street suffered damage in the attic and on the side of the house.
The neighbor's house on East Academy also appeared to suffer significant damage. That house is owned by Bob Maxwell. His friends said he has done extensive renovations to the house in recent years.
Papponetti said battling three fires at once proved a challenge for firefighters, especially with the houses so close together.
A GoFundMe has been established for the victims of the fire. Click here for more information.