Albion Fire Department honors top responders
Ron Armstrong recognized for 65 years of service to AFD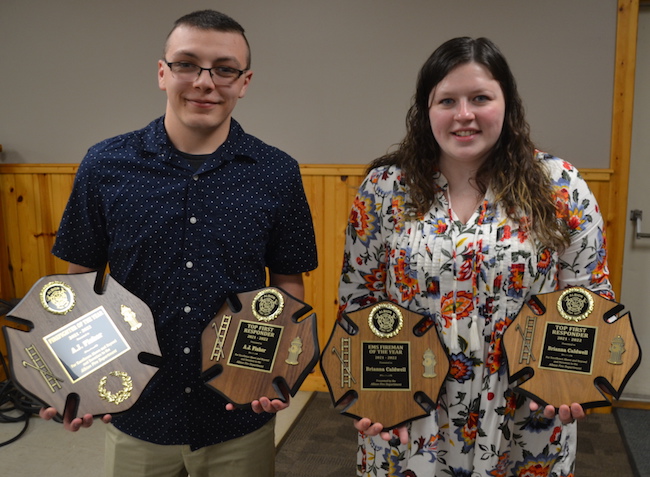 Photos by Tom Rivers
ALBION – A.J. Fisher was recognized on Saturday night as Albion's "Firefighter of the Year" and Brianna Caldwell was named "EMS Fireman of the Year." Both also were among the top 10 of the volunteer firefighters for responding to calls.
Fisher, 21, has been around the fire hall since he was 2. His father was an Albion firefighter. His brother James also was a long-time Albion firefighter before joining the Carlton department. Their sister Amber is married to Albion Fire Chief Rob Conner and is a 15-year member.
Fisher was praised by Chief Conner for responding to so many calls and for a willingness to help the department.
"He's nonstop," Conner said.
Fisher will often be working at Walmart and will clock out to go to a call, and then return to work.
"I like to help out and be involved in the community," he said.
Caldwell, 25, joined Albion a year ago after being a firefighter with the Barre Volunteer Fire Company. She responded to more than 250 calls last year with the Albion Fire Department.
She works from home as project manager for a software company. She enjoys being a firefighter.
"I love my community and I want to give back to it," she said.
The department had more than 500 calls last year. The top responders included: Jeremy Babcock, 74 percent; A.J. Fisher, 65 percent; Brianna Caldwell, 50 percent; Dylan Marks, 47 percent; Rob Conner, 40 percent; Fred Piano, 40 percent; Austin Zobel, 37 percent; John Papponetti, 36 percent; Steven Papponetti, 33 percent; and Paul Urquhart, 31 percent.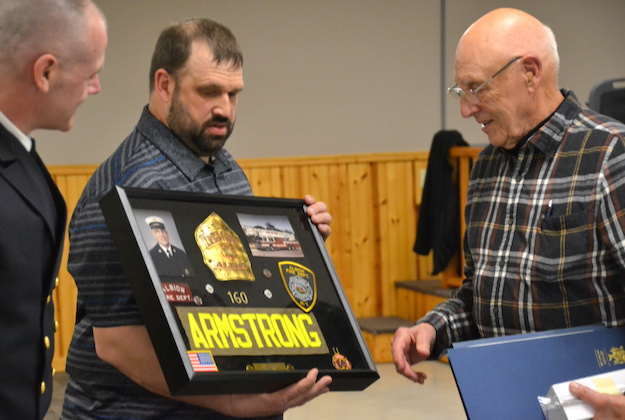 Ron Armstrong was recognized with 65 years of service to the fire department and community. Armstrong is shown receiving a gift from Chief Rob Conner on behalf of the AFD.
Armstrong, 88, only recently stopped being a driver for fire and emergency calls.
Armstrong served as fire chief in 1975, and then from 1996 to 1998. He stayed very active with the department through his 70s and early 80s because he said there is a need for volunteers, especially during the work hours.
Armstrong served in the Air Force as a radio operator. He was stationed in Germany during the Korean War. He then worked 30 years as a printer at the former Eddy Printing in Albion before working another 16 years at Kodak. He has served on many of the truck committees over the years.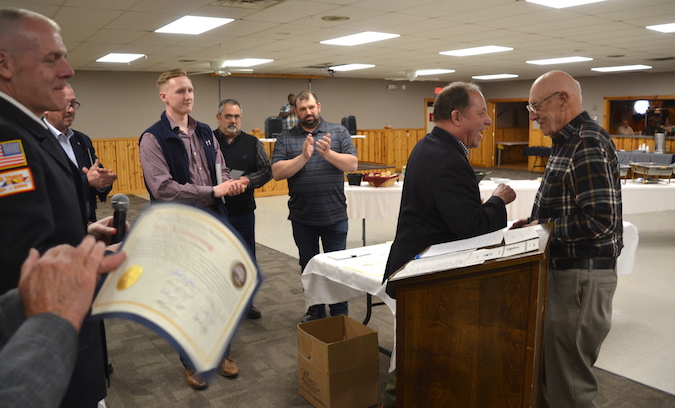 State Assemblyman Steve Hawley presents a certificate of commendation to Armstrong for 65 years of service and for "repeatedly demonstrating courage in the face of adversity" by responding to many fires, motor vehicle accidents and other emergencies.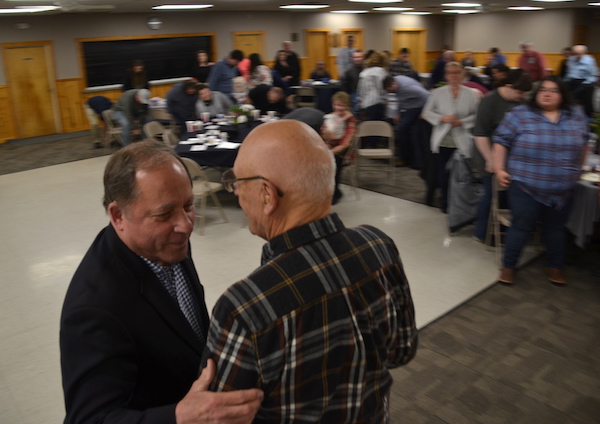 The crowd gives Armstrong a standing ovation when he was recognized by Hawley.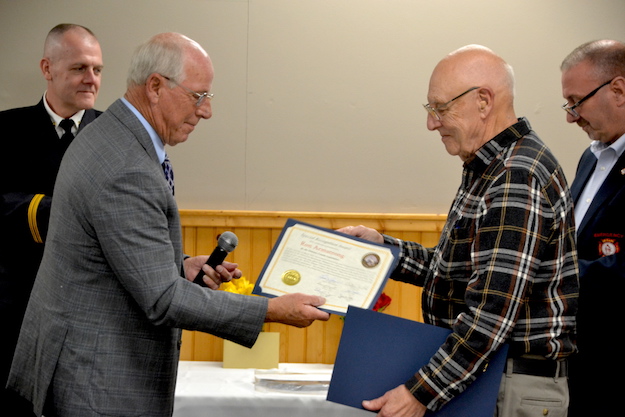 County Legislator Ed Morgan presents a special recognition award from the County Legislature to Armstrong. He also received awards from State Sen. Rob Ortt and the Firefighters Association of New York State.
Armstrong said Albion has been fortunate to have a dedicated group of firefighters for many decades.
"We've always had a good crew behind us," he said.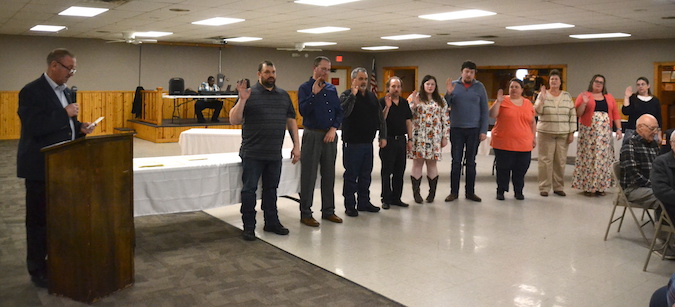 Dale Banker, the county's emergency management coordinator, installs the officers and executive committee.
The officers for 2022 include: Rob Conner, chief; James Peruzzini, deputy chief; John Papponetti, assistant chief; Steven Papponetti, captain; Jeremy Graham, first lieutenant; Nathan Bloom, second lieutenant; Jeremy Babcock, third lieutenant; Harry Papponetti, chief mechanic; Fred Piano, EMS captain; and Brianna Caldwell, EMS lieutenant.
The executive committee include: Nathan Bloom, president; Austin Zobel, vice president; Dawn Marciszewski, treasurer; Kelly Irwin, assistant treasurer; Christine Bloom, secretary; and directors Jan Cheverie, Jeremy Babcock and Nathan Bloom.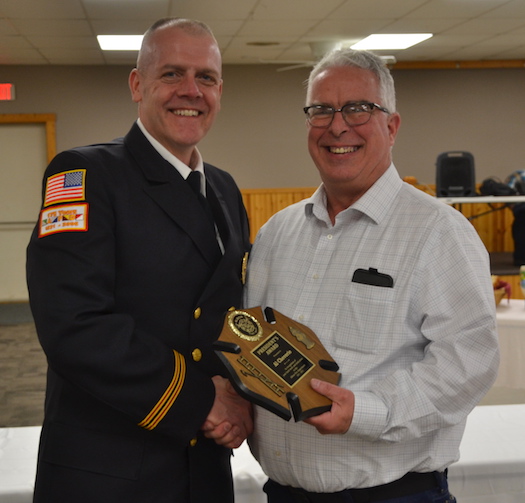 Joe Grube, the outgoing president of the fire department, presents the President's Award to Al Cheverie, who served in the role for many years and was a steady help to Grube in the past year. Nathan Bloom is the department's new president.