Albion fire chief presented citation for 51 years of service in Albion FD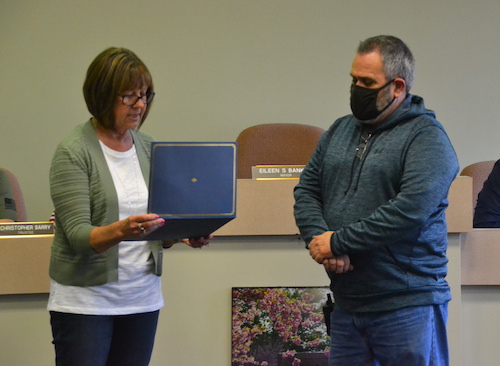 Photos by Tom Rivers
ALBION — Mayor Eileen Banker on Wednesday evening presents a citation expressing "sincere appreciation and gratitude" on behalf of the Village of Albion and Albion Village Board to Harry Papponetti, who is stepping down next month as Albion fire chief.
Papponetti has served 51 years as an Albion firefighter, including three stints as fire chief, from May 1979 to April 1984, January 1998 to April 2003, and since May 2015. He has been part of the department's leadership for the past 49 years.
"Your positive example of sacrifice and devotion on behalf of our community has taken many hours and sometimes days away from your own family," the citation states. "This board, along with the residents of the Village of Albion, sincerely thank you!"
The citation is signed by Mayor Banker, and trustees Chris Barry, Zack Burgess, Stan Farone and Gary Katsanis.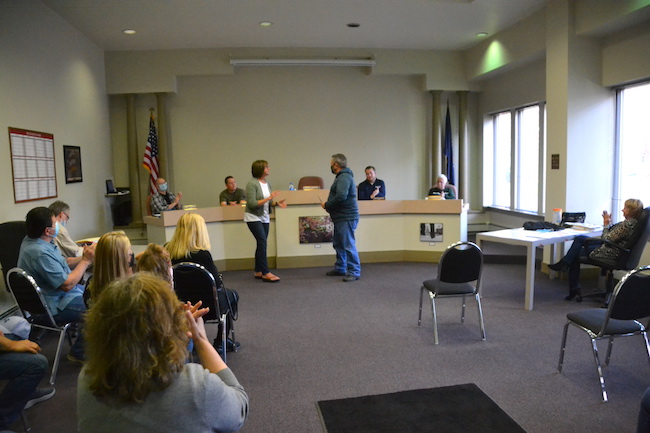 Harry Papponetti, who is also Albion's animal control officer, accepts the citation during Wednesday's Village Board meeting.
"I want to thank everybody on the past and present Village Boards," Papponetti said. "They have all been very appreciative of the fire department."