Albion FFA will deliver 50,000 pounds of food on Saturday morning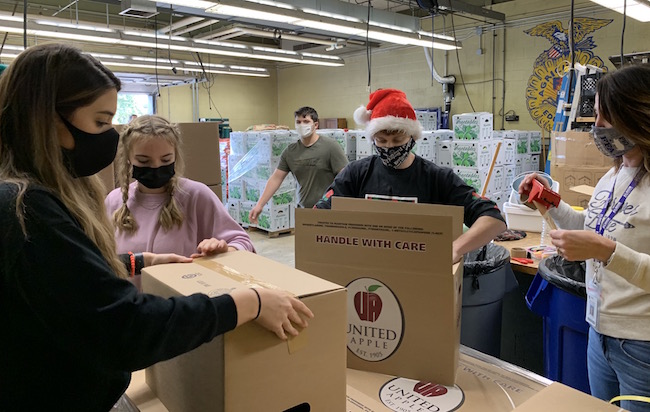 Photo by Tom Rivers
ALBION – Students in the Science of Food Class in Albion get boxes ready for apples that will be delivered this afternoon as part of the FFA food drive. The students include, from left: Lauren Wehling, Charley London, Cam Bell (in back), Sam Williams and Betsey Krenning, the FFA advisor.
The FFA has set a goal of collecting 50,000 pounds of food that will be delivered Saturday morning to Community Action of Orleans & Genesee in Albion. Community Action will then share it with other food pantries and agencies.
Local farms and agricultural businesses started delivering food on Tuesday for the annual food drive, which the FFA has coordinated since 2010. The first year there was 3,000 pounds and it has steadily grown, reaching 40,000 pounds in 2019. The FFA believes it has reached its goal of 50,000 pounds for 2020.
The food drive donors this year include:
Orleans County Farm Bureau
Triple G Farm
Panek Farms
Root Brothers
Kludt Brothers
Nesbitt Fruit Farms
Orchard Dale Fruit
Kreher's Eggs
Martin Farms
Kirby Farms
Partyka Farms
CY Farms
Starowitz Farms
Poverty Hill Farms
Torrey Farms
Dale Root
Colby Farms
Mortellaro Farms
My-T Acres Farm
Lynnette and Sons
Mayer Bros.
Schutts Apple Mill
InterGrow Greenhouses
Upstate Niagara Cooperative
Rush's Vegetables
Champion Moving & Storage
Lake Ontario Fruit
H. H. Dobbins
Citrus (Sue Holland and Laura Simboli)