Albion FFA food drive tops 40,000 pounds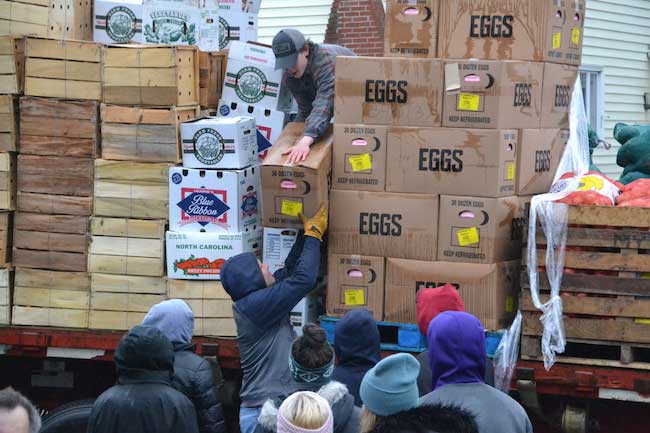 Photos by Tom Rivers
ALBION – Albion FFA member Kyle Pappalardo is on a flatbed trailer and handing down a box of eggs to Adam Krenning, the former FFA advisor who helped load and then unload the trailer on Saturday morning during the FFA's annual food drive.
Local farmers donated 40,000 pounds to the food drive. The food was packed by the FFA students and alumni and then delivered to Community Action of Orleans & Genesee on East State Street.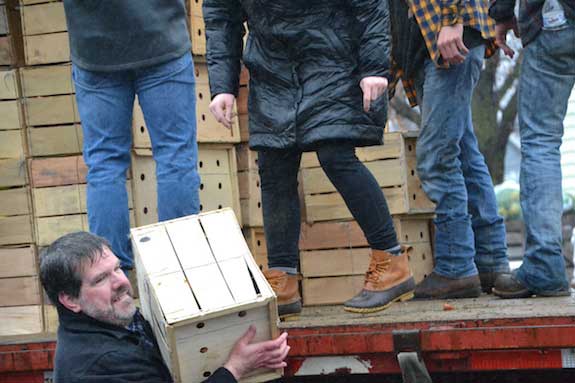 Michael Bonnewell, the Albion school district superintendent, helps unload the truck on a rainy Saturday.
The 40,000 pounds is a new record for the FFA food drive, up from the 35,000 pounds each of the past two years.
The farms that donated include: Triple G, Panek Farms, Root Brothers, Kludt Brothers, Orleans County Farm Bureau, Nesbitt Fruit Farms, Orchard Dale Fruit, Kreher's, Martin Farms Inc., Kirby Farms, Call Farms, Partyka Farms, Costanzo's Bakery, Starowitz, Torrey Farms, L Brooke Farms, Colby Farms, G. Mortellaro & Sons, My-T Acres, Lynn-ette & Sons Inc., and CY Farms.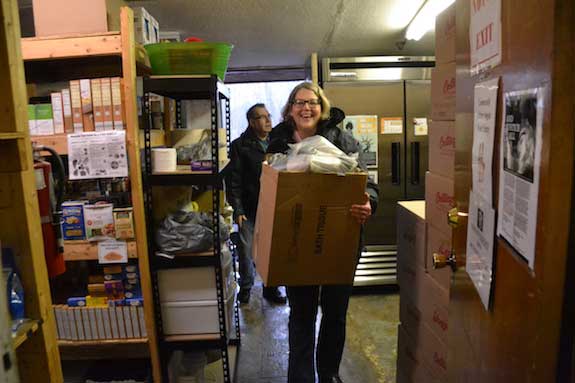 Jenn Ashbery, the Albion High School principal, carries a box inside Community Action. She helped unload the items on Saturday.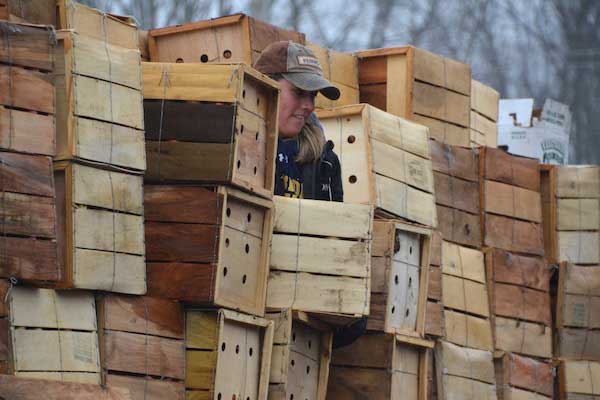 Paige (Levandowski) Hungerford, the Albion FFA advisor, managed the food drive for the first time as the FFA advisor. She was a student in 2010 during the first drive, which yielded 3,000 pounds of produce and was delivered on two pickup trucks.
She said she is amazed how the food drive has grown since then. The goal was always to connect the local farming community to filling a need locally.
The donated food is shared by six local food pantries including the Lord's House in Waterport, Calvary Tabernacle in Medina, Alabama Full Gospel in Shelby, Eastern Orleans Community Center in Holley, Community Action in Albion and Community Action in Batavia..
The food drive has grown from 3,000 pounds in 2010 to 9,000 pounds in 2011, 17,000 the following year and 19,000 in December 2013. The FFA reached 27,000 pounds in 2014 and reached 30,000 for the first time in 2015. It was at 33,000 pounds in 2016 and hit 35,000 pounds in both 2017 and 2018. This year was the first time it reached 40,000 pounds.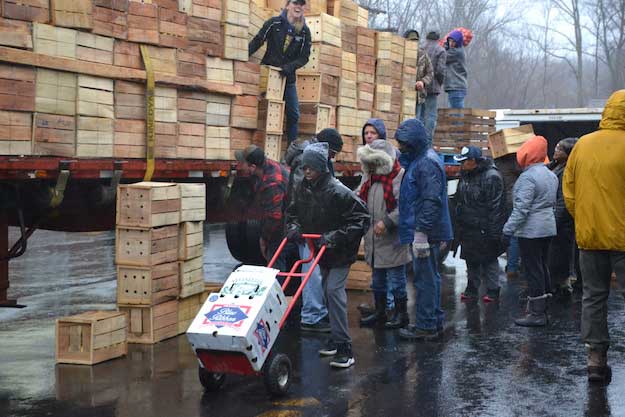 Micah Johnson of Rochester has a dolly cart to move crates of food going to the Lord's House. The crate containers were donated by Navarra's Greenhouses in Albion.
"This is a great boost especially this time of the year," said Angela English of the Lord's House. "This time of the year is a struggle for many families."
The Lord's House had a food pantry open on Tuesday and Thursday evenings and every other Saturday.
Ed Fancher, executive director of Community Action, appreciates the donations from the farmers and the FFA's efforts in organizing the food drive and delivering the produce.
"I just feel general amazement at the generosity of the farming community and the students who pack the truck," Fancher said Saturday morning, watching the FFA students unload a flat-bed trailer and other vehicles. "On behalf of the families we serve, thank you."