Albion FFA food drive sets new record with 53,000 pounds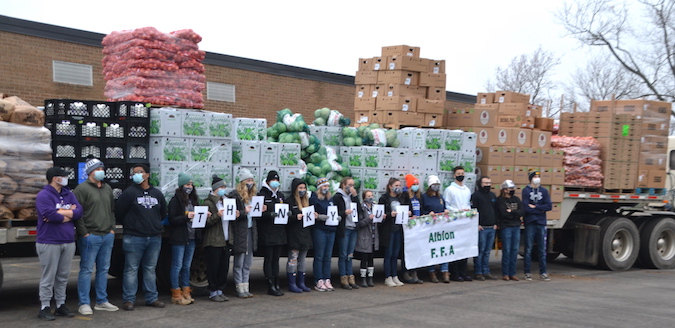 Photos by Tom Rivers
ALBION – FFA members and some of the Albion football players are pictured this morning after loading a flat-bed trailer and another smaller trailer with 53,000 pounds of produce, milk and other food.
They then delivered and unloaded the food at Community Action of Orleans and Genesee on East State Street.
This is the 11th year the Albion FFA has organized the food drive. The 53,000 pounds breaks the record of 40,000 pounds set last year.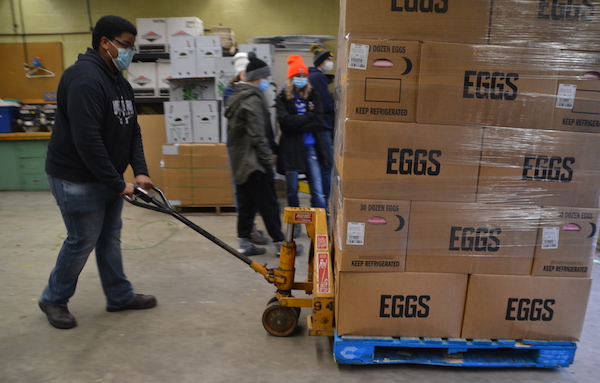 Albion football player Adonis Guzman was among the helpers this morning. He is in the ag shop moving eggs donated by Kreher's.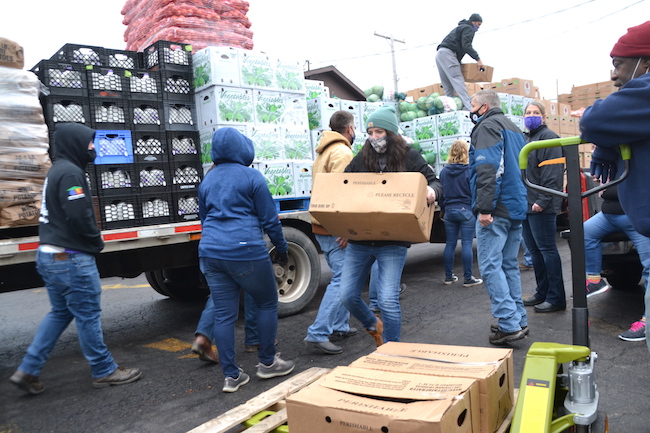 Bailey Nesbitt, the FFA president, carries a box of produce from the flat-bed trailer. She said the farm and agriculture community responded to a bigger need in the community due to the Covid-19 pandemic and the economic hardships for many local residents.
The Albion FFA started calling farms and ag businesses about a month ago. Many already had set aside food for the drive, and gave more than they had in previous years. Some new contributors also joined the effort this year.
"This year everybody realized people needed help," Nesbitt said.
She has been a part of the food drive the past four years. When a flatbed truck from Panek Farms arrived at Community Action, the agency and volunteers gave the FFA loud cheers and applause.
"It's very exciting to give back and see the smiles on their faces," Nesbitt said.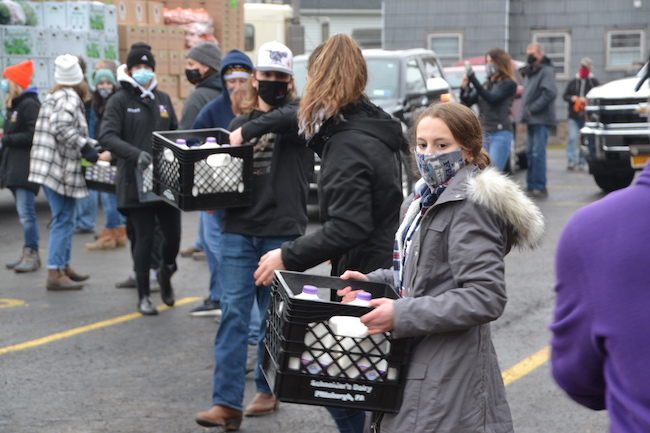 Gina Sidari holds a crate with four gallons of milk. The Upstate Niagara Cooperative donated 108 crates or 432 gallons of milk for the food drive.
The food will go to about 10 local soup kitchens and food pantries, and also for 150 food baskets for families served by Community Action.
"This is a godsend," said Annette Finch, the community services director for Community Action. "If we didn't have this we'd have to go out and purchase it which is hard to do on donations."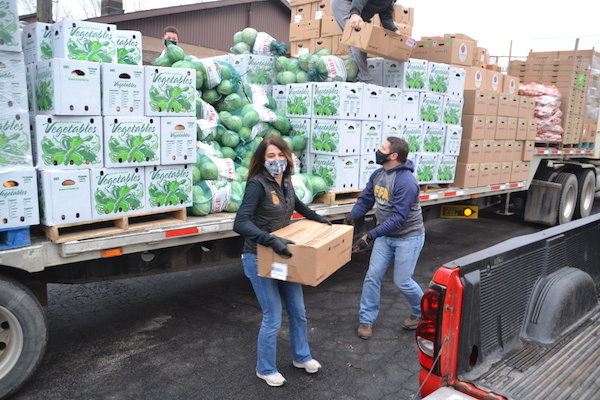 FFA advisor Betsey Krenning takes a box of produce from her husband Adam, who used to be the FFA advisor.
The food drive donors this year include:
Orleans County Farm Bureau
Triple G Farm
Panek Farms
Root Brothers
Kludt Brothers
Nesbitt Fruit Farms
Orchard Dale Fruit
Kreher's Eggs
Martin Farms
Kirby Farms
Partyka Farms
CY Farms
Starowitz Farms
Poverty Hill Farms
Torrey Farms
Dale Root
Colby Farms
Mortellaro Farms
My-T Acres Farm
Lynnette and Sons
Mayer Bros.
Schutts Apple Mill
Intergrow Greenhouses
Upstate Niagara Cooperative
Rush's Vegetables
Champion Moving & Storage
Lake Ontario Fruit
H. H. Dobbins
Citrus (Sue Holland and Laura Simboli)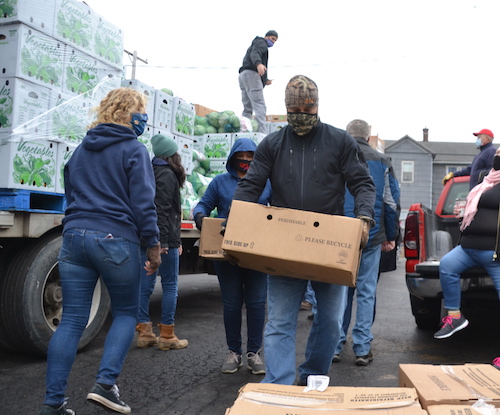 Mickey Edwards, who starts as Albion's new superintendent of schools on Feb. 1, helped unload the produce this morning.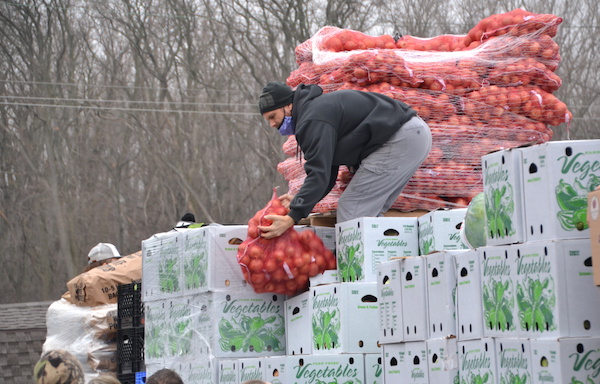 Brad Pritchard, the middle school principal, got a workout moving the heavy bags and boxes of produce from the flat-bed trailer.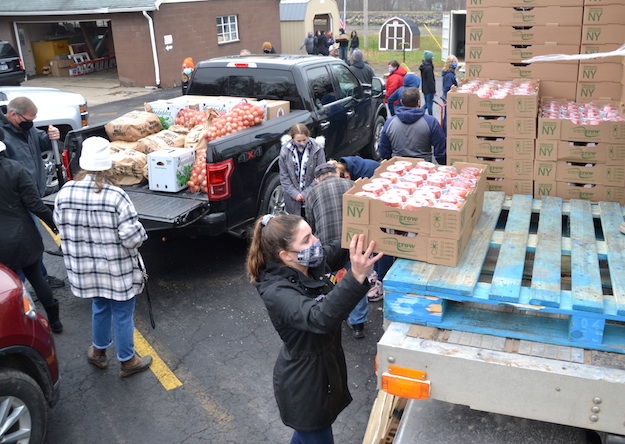 Olivia Krenning reaches for these tomatoes donated by Intergrow Greenhouses.
Click here to see a video of the FFA students in action.