Albion FFA food drive hits 35,000 pounds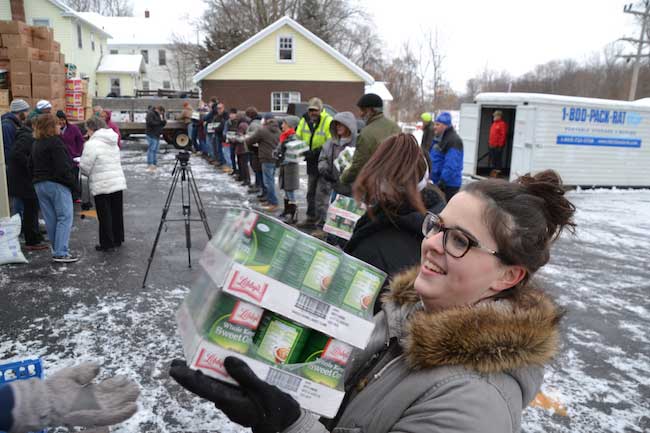 Photos by Tom Rivers
ALBION – Karli Henchen of the Albion FFA passes cans of sweet corn this morning when the FFA and community members unloaded 35,000 pounds of food donated by local farmers.
The Albion FFA has been organizing the food drive for about a decade and the 35,000 pounds set a new record.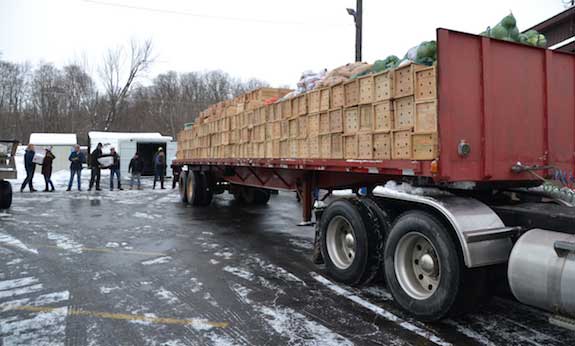 FFA members were up early today packing up the produce, which was stacked on a tractor trailer owned by Panek Farms.
The food was delivered to Community Action on East State Street. The food was divvied up among eight food pantries in the county.
"This means the world to us," said Annette Finch, director of community services for the agency. "I don't have enough words to say what these young people have done for our community."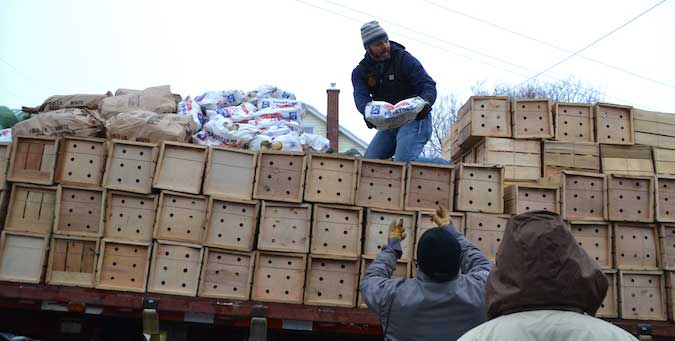 Adam Krenning, the Albion FFA advisor, tosses a bag of potatoes to volunteers. Kenning said farmers continue to be generous to the annual drive.
The following donated to the effort:
Triple G Farms – Potatoes
Root Brothers – Cabbage
Kludt Brothers – Squash
Nesbitt Fruit Farm – Apples
Orchard Dale Fruit Farm – Apples
Kreher's – Eggs
Martin Farms – Squash
Jeff Partyka – Apples
CY Farms – Onions
Starowitz Farms – Cabbage
Torrey Farms – Onions and Potatoes
Panek Family Farm – Green Beans and Corn
Robert Colby/ Colby Farms – Potatoes and Cabbage
Bittner Singer Orchards – Apples
Orleans County Farm Bureau- Hams
Mortellaro and Sons – Onions
Costanzo's Bakery/ Dale Root – Bread
Adam Kirby – Apples
Navarra's Greenhouses – Crates
Call Farms – Potatoes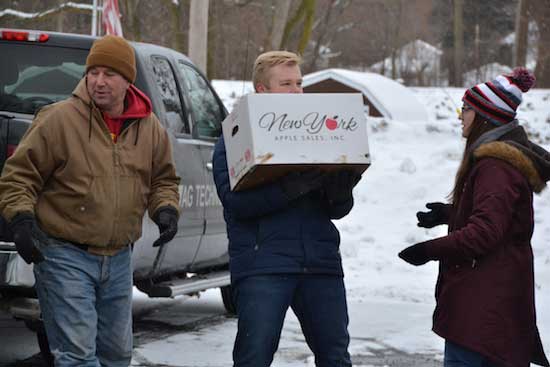 Barry Flansburg, left, assists the FFA this morning. Garrett Derisley, the FFA president (center), passes a box of apples to Emilie Barleben, last year's president. She is home on break from college and wanted to help this morning.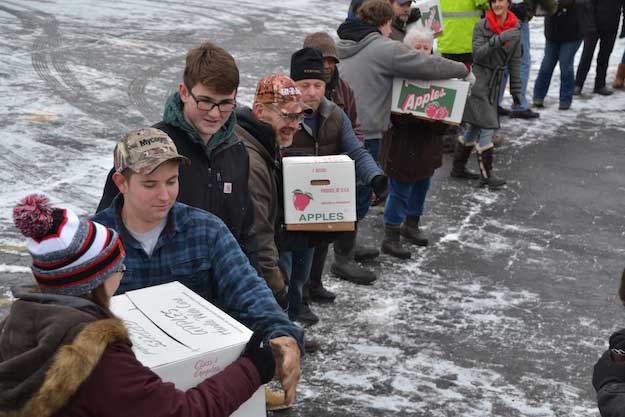 A line of volunteers, including Assemblyman Steve Hawley, unload the boxes.
Orleans Hub will post more pictures later today of the food drive.