Albion Federal Savings & Loan served community for nearly 70 years
By Catherine Cooper, Orleans County Historian
"Illuminating Orleans" – Vol. 1, No. 15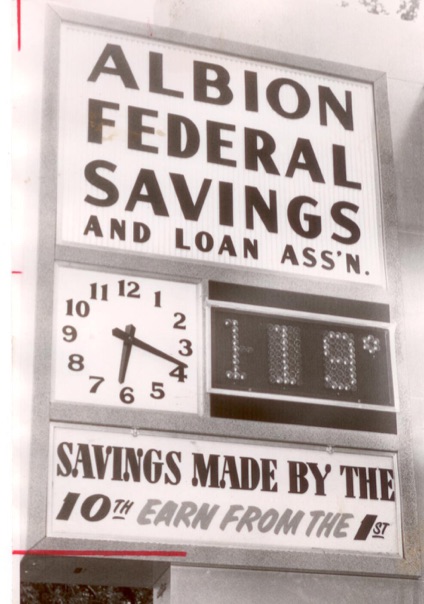 ALBION – Weather temperatures have been higher than "normal" of late, but not quite on par with the 119 degrees registered on the Albion Federal Savings and Loan Association sign in this undated photo from the William A. Monacelli photograph collection at the Orleans County Department of History.
The Albion Federal Savings and Loan Association was formed by local businessmen Hon. Sanford T. Church and Freeman E. McNall in 1934, following the closing of the Citizens National Bank in 1932.
On the occasion of the Association's 25th anniversary, Sanford B. Church attributed the success of the Association in large part to its enthusiastic board of directors and hard-working and conscientious staff. From the beginning, the Association paid as large a dividend as was possible, beginning with 3 percent per annum in 1935. During World War II, the rate fell to 1 ¼ per cent in December 1945, but climbed steadily afterwards.
In support of Albion's Downtown Restoration Program and the National Bicentennial in 1976, the Association undertook the restoration of the former home of Lorenzo Burrows at 48 North Main Street for use as its expanded headquarters. Albion Federal opened a Brockport office in 1997. Both were acquired by First Niagara in March 2000. First Niagara in turn was acquired by KeyBank in 2016. The pace of change in the banking industry has been as dizzying as the temperature in our photograph, though the interest rates are distinctly chillier.