Albion family doubles size with adoption of 3 siblings today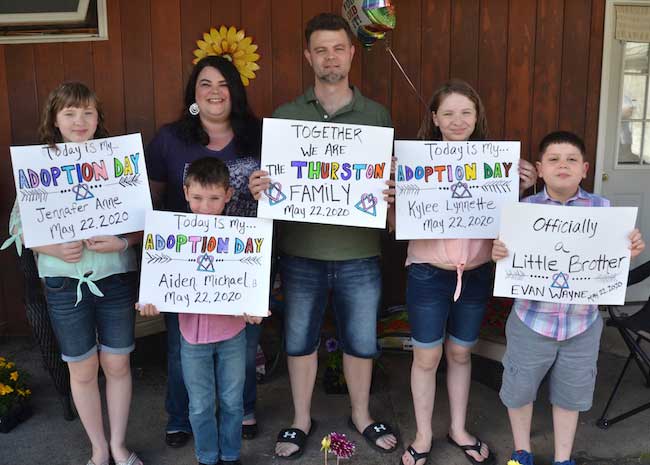 Photos by Tom Rivers
ALBION — The Thurston family in Albion doubled in size today with the adoption finalization of three siblings.
Stephanie and Jeff Thurston adopted twin sisters, Jennifer and Kylee, both 12, and their brother Aiden, 9. They join little brother, Evan Wayne, 8. The adoption was finalized in a hearing this afternoon through Skype. (Pictured from left include Jennafer, Aiden, Stephanie. Jeff, Kylee and Evan Wayne.)
Orleans County Family Court Judge Sanford Church presided over the hearing. The Thurstons originally were scheduled to adopt Jennafer, Kylee and Aiden on March 17. But a day before at 5 p.m. that hearing was called off because the courthouse was closed to the public due to the Covid-19 pandemic.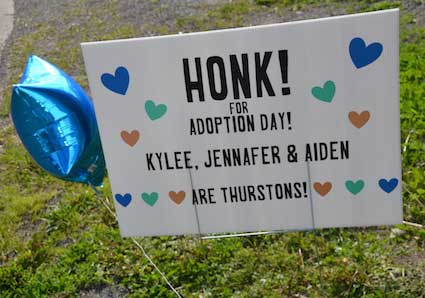 "We've been waiting a long time," Stephanie Thurston said at the family's home on West Bank Street. "We feel
There was a celebration outside their house after the hearing. Many of their friends and neighbors drove by, honking horns.
Stephanie Thurston inquired with the court last week about doing an adoption over Skype. She read about other courts doing them through videoconferencing.
Judge Church was willing to do the hearing through Skype. He presided over his first adoption through Skype on May 14.
The Thurstons served as foster parents for the three siblings for 409 days. They met the three at Our Light of Victory Church o Brown Street in Albion, where the Thurstons are youth ministers. The three were staying with a different foster family at the time.
"We got to know the kids and they were on my heart," Mr. Thurston said. "We grew to love them."
Mrs. Thurston works as the executive secretary at the church. Mr. Thurston is a hair stylist in Lockport, working at Full Circle Salon.
The couple said they had been praying for about two years about being adoptive parents. They connected with Hillside Children's Service in Batavia and took classes for six months. They became certified to serve as foster parents in April 2019. The three siblings joined them that month and right away were a good fit with the Thurstons.
Mrs. Thurston said the family needs to be well organized to stay on stop of schoolwork and appointments. That has been one of the bigger challenges, just being busier.
The Covid-19 pandemic has actually slowed down the pace, and the family has enjoyed spending more time together at home.
"It has definitely been an adventure and it will only get better as we make memories and get stronger together," Mrs. Thurston said. "I feel totally blessed."
The Thurstons would like the three children to stay in touch with their biological parents.
"We're very thankful for the blessing their birth parents gave us," Mrs. Thurston said.