Albion Elks Club presents 4 grants to local organizations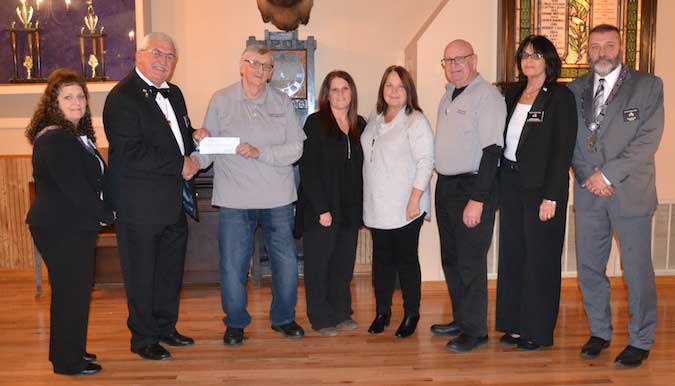 Photos by Tom Rivers
ALBION – Leaders of the Albion Elks Club on Wednesday presented $500 grants to four local organizations, including Orleans – Recovery Hope Begins Here, a new organization that connects people struggling with drug addiction to local resources and mentors.
Pictured from left: Lynda Standish, esteemed lecturing knight for the Elks; Darryl Szklany, exalted ruler for the Albion Elks; Wayne Litchfield, treasurer of Orleans – Recovery; Kim Lockwood, fund-raising chairwoman for Orleans – Recovery; Tami Ashton, vice president; Don Snyder, president; Karen Ward, Elks grant coordinator and past exalted ruler; and Tim Keller, chairman of the Elks trustees.
Orleans – Recovery Hope Begins Here will open an office at the Arnold Gregory Office Complex in Albion on Dec. 1.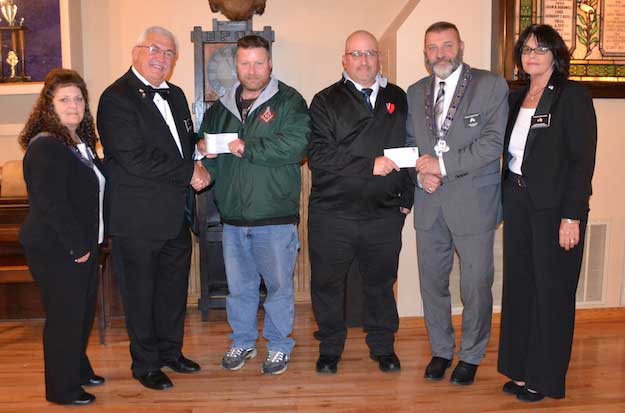 The Elks also presented $500 checks to the Warrior House and AYSAP, the Albion youth football and cheerleading program. The Warrior House provides a hunting retreat for wounded veterans in Shelby and other services for veterans and their families.
Pictured from left: Lynda Standish and Darryl Szklany of the Albion Elks; Ed Spence, director of operations for the Warrior House; Geno Allport, AYSAP commissioner; and Tim Keller and Karen Ward of the Elks.
The Elks also awarded a $500 grant to COVA, the local ambulance provider.
The Albion Elks has 277 members, making it one of the largest service organizations in the county.
The organization also gives out $2,000 in scholarships annually.
This year the Elks Club nationally is celebrating the 150th anniversary of its founding.