Albion drama students give gift baskets to be shared with local families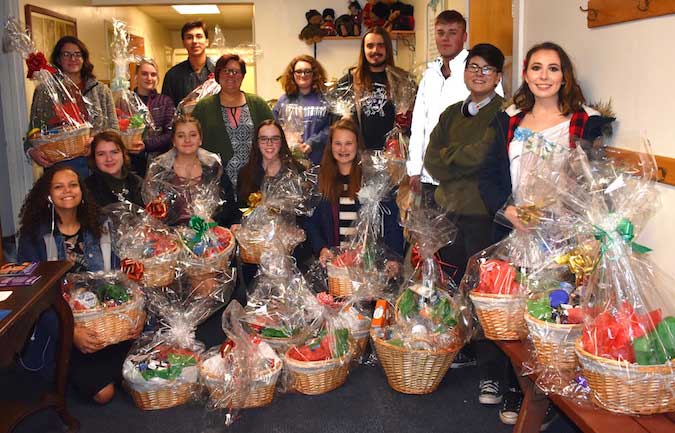 Photo courtesy of Albion Central School
ALBION – This week the First Presbyterian Church of Albion and Pastor Susan Thaine received a surprise delivery of more than 20 food baskets from Albion High School drama students. These baskets will be distributed to needy families for Thanksgiving.
Cast members from "The Best Christmas Pageant Ever" purchased food items with Drama Club funds and put the baskets together. They were used as props in a scene during the fall musical. Once the show ended, the students wanted to donate the baskets to an organization to help others in their community.
Pictured with Pastor Thaine are several cast members delivering baskets.  Kneeling (left to right): Sophia Zambito, Aubrey Boyer, Emily Mergler, Annaliese Steier and Leah Kania.  Standing: Molly Wadhams, Emma Tower, Chase Froman, Pastor Thaine, Myleigh Miller, Brennan Moody, Colby Ferchen, Nia Rodriguez and Kaylyn Holman.