Albion dedicates children's library to Helen Rice Blissett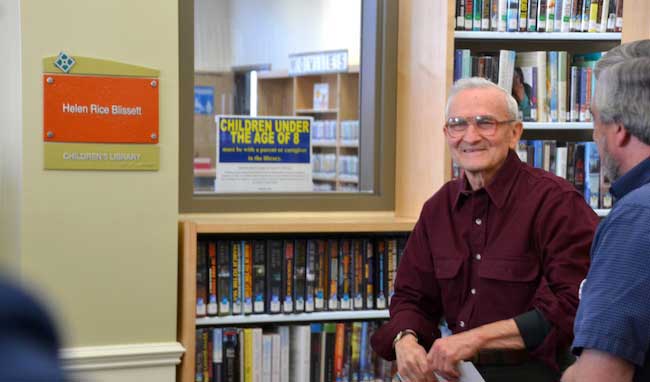 Photos by Tom Rivers
ALBION – Hoag Library this morning unveiled a plaque naming the children's library in honor of Helen Rice Blissett. Her son, Dale Blissett, is pictured after the plaque was unveiled this morning.
Mr. Blissett donated $75,000 to have the children's library named in his mother's honor and also to support children's programs at Hoag.
"It will be enriching the little kids' lives for years to come," he said during a dedication program.
Blissett is a retired Oakfield-Alabama science teacher. He lives in Albion and stops by the Hoag Library two or three times most weeks. He sees how busy the library, a site that opened in July 2012, has become.
"It's nice to see little kids who are 2 or 3 come down and say, 'I'm going to read a book,'" Blissett said.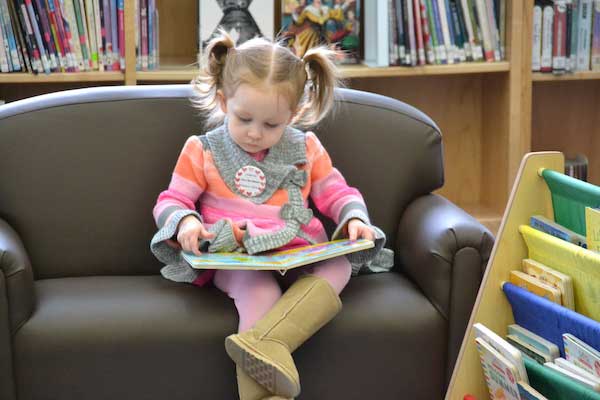 Aurora Fink, 2 ½ of Bergen, looks over a book in the children's library today. Her grandmother, Barb Kyler, works as assistant to the library director.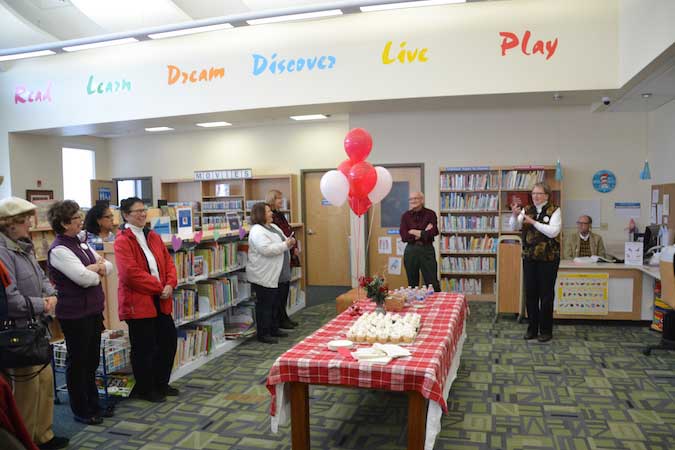 Dale Blissett and Library Director Betty Sue Miller, right, welcome people to the dedication of the children's library. It's the last room to have the naming rights claimed in the library, which opened in July 2012.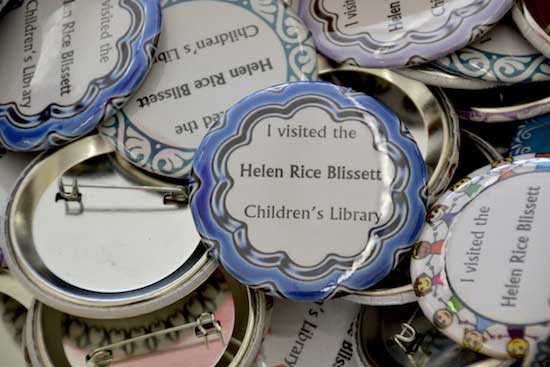 The library handed out buttons today in honor of the Helen Rice Blissett Children's Library.
Mrs. Blissett passed away in 1999. Her son said she had an "infectious smile" and loved children.
Helen Blissett and her husband John both worked at Delco in Rochester. They moved into the village after running a farm on Hindsburg Road in Clarendon.
Their son, Dale, spent a lot of time at Swan Library as a kid, and books about science and geography opened his mind, and led him to pursue a career as a science teacher at Oakfield-Alabama.
Some of the money from Blissett will go towards paying down the mortgage on the building, and some of the funds will be dedicated to children's programming, said Kevin Doherty, president of the library board of trustees.
Hoag is working on refinancing the mortgage, which is currently $1.4 million with a variable rate through Farm Credit. Doherty said the library is looking for a fixed rate over 20 years.
Doherty thanked Blissett for the donation, saying it was particularly meaningful coming from "a regular patron who see's what's going on in the library."