Albion couple feel honored to share flight with soldier who died in Korea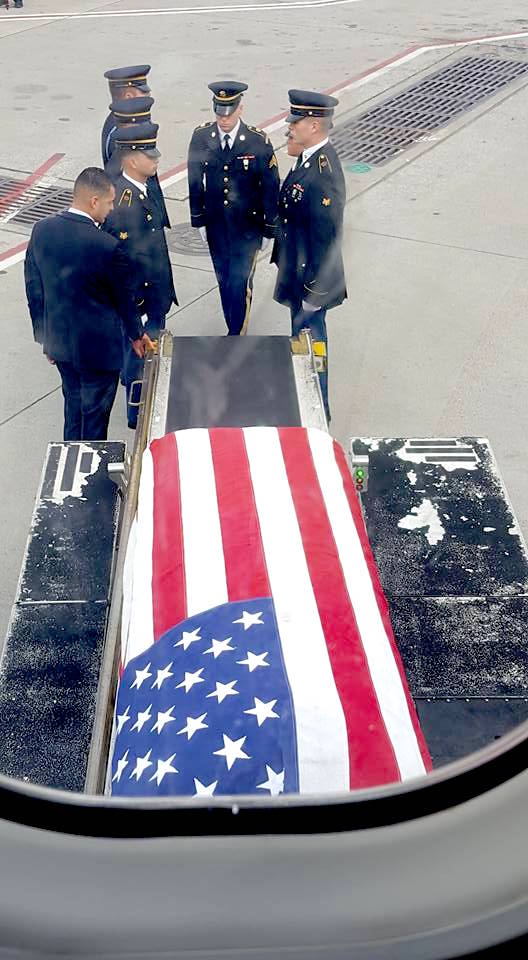 Photo courtesy of Ken Degnan
BUFFALO – Ken and Sue Degnan of Albion flew from Atlanta to the Buffalo Niagara International Airport on Wednesday. There was an uplifting moment soon after the plane landed when an Honor Guard arrived to welcome home Roy C. Fink, a Korean War veteran.
Fink's remains were brought home on Wednesday – nearly 66 years after he disappeared. He went missing on Dec. 2, 1950 at the Chosin Reservoir – one of the bloodiest battles of the Korean War.
Fink was identified in Korea after a relative provided the Army with a DNA sample. Fink's skeletal remains were excavated in a joint recovery mission conducted by the U.S. Army and North Korea's army, The Buffalo News reported.
A public funeral service will be held for Fink from 4 to 7 p.m. Thursday at Lombardo Funeral Home in Amherst. He will be buried at Forest Lawn Cemetery in Buffalo.
The Degnans were on the Delta flight on Wednesday from Atlanta to Buffalo.
"The Captain asked for all to stay seated while the one military escort person on the plane exited," Degnan said. "Sue and I noticed when she got on, and wondered what branch of the military she was in. That was before we were told why she was on the plane. Many people stayed on the plane, including crew, to watch from the windows."
Degnan said it was an honor to share the flight and see the welcome for Fink.