Albion church sending team for missions work in Bulgaria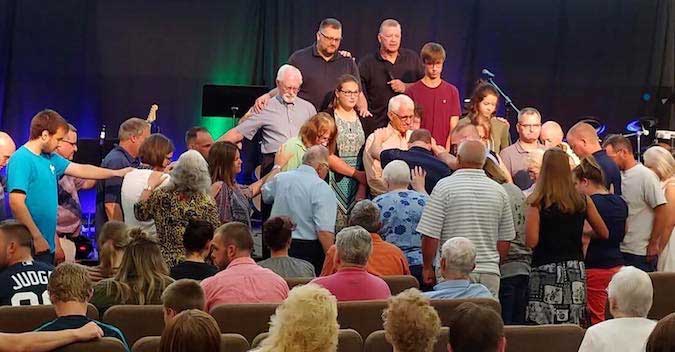 Photos courtesy of Albion Free Methodist Church
ALBION – The Albion Free Methodist is sending a group of 11 to Bulgaria for a short-term missions trip. They leave on Tuesday.
On Sunday there was a commissioning prayer with several members of the church praying with the group.
The primary function of the trip will be putting on a Family Camp for the pastors, leaders, and families of 19 new churches which have been planted over the past three years. In addition to the team leading programs for various age groups and assisting in worship and other activities, Pastor Randy LeBaron of AFMC will be preaching locally and leading training seminars for the 19 pastors. All of the pastors are Roma (gypsies) and have had to deal with extreme prejudice so part of the overall effort is to encourage and minister to them so that they will be renewed as they go back home to minister to others, LeBaron said.
After previous trips to Chile', Haiti, and Peru, the Rev. Randy LeBaron, the lead pastor at AFMC, said that he and others felt called to go to Europe this time around.
A few years ago the Superintendent of Genesis Conference of the Free Methodist Church, Mitch Pierce, started to oversee parts of Europe in addition to his position here and that opened the door to new overseas connections.
When inquiring early last year where a need was for short-term missionaries, Pastor LeBaron was informed that Chance & Dee Dee Galloway, missionaries to Bulgaria, were on home leave passing through the area. LeBaron with Mike Neidert, AFMC's missions coordinator, and Brian & Sharon Stewart, previous short-term missionaries in France, had lunch with the missionaries and were convinced that Bulgaria was where God wanted to send them.